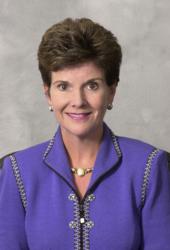 Now more than ever, the world is calling on innovators and entrepreneurs to address society's most pressing challenges and drive economic growth. This is Stevens' particular forte.
Hoboken, NJ (PRWEB) March 07, 2013
Virginia P. Ruesterholz, a longtime executive at Verizon and a 1983 graduate of Stevens Institute of Technology, has been elected chairman of the Board of Trustees of her alma mater. Ruesterholz will be the first woman to hold the position of chairman at the 143- year old institution. Her term will begin in May.
Ruesterholz, a chemical engineering major while an undergraduate at Stevens, holds an M.S. in telecommunications management from Brooklyn Polytechnic Institute and an honorary doctorate of engineering from Stevens (2008). She has served on the Board of Trustees since 2007 and currently serves as vice chair. Her contributions to Stevens over the decades have included serving as chair of the advisory board of the School of Systems and Enterprises; co-chair, with her spouse, Kevin, of the Edwin A. Stevens Society, where she led the dynamic membership growth of this leadership society for annual giving to Stevens; and championing an initiative which led to the Verizon Foundation's sponsorship of a grant to launch Stevens' K-12 engineering education initiative. With her spouse, she has also established a scholarship fund for Stevens students in the field of engineering management.
"Virginia has already had an immeasurable impact on the Stevens community," said President Nariman Farvardin. "A role as Chairman of the Stevens Board of Trustees is a natural progression given Virginia's stellar track record of enterprise management and her unwavering commitment to this university. She is simply the right person for this important position to guide the continued success of Stevens."
Ruesterholz had a nearly 30-year career at Verizon before retiring in 2012. She began her career as a manager in one of the company's predecessors and rose to executive vice president and president of Verizon Services Operations, a global business group that operates Verizon's wireline network as well as the finance operations, real estate, and supply chain services that support all Verizon companies. In her prior assignment, she served as president of Verizon Telecom, where she led the rollout of Verizon's high speed fiber optic technology nationwide.
"Now more than ever, the world is calling on innovators and entrepreneurs to address society's most pressing challenges and drive economic growth. This is Stevens' particular forte. I plan to continue the direction of the current board and Chairman Babbio, working closely with President Farvardin, to expand Stevens' already significant footprint and impact regionally, nationally and globally," Ruesterholz said.
Ruesterholz assumes the chairmanship at a time when Stevens is accelerating its own efforts to address the historic gender gap in science, math and engineering. The university's 10-year strategic plan lists as an objective an increase in student diversity, including raising the percentage of women in its undergraduate population to at least 40 percent by 2022. The Fall 2012 incoming class was 31 percent female, well above the national average, and a seven-point increase over just a year prior. According to the American Society of Engineering Education, Stevens is fifth in the nation in the percentage of engineering doctoral degrees awarded to women (34 percent).
Ruesterholz succeeds Lawrence T. Babbio, former vice chairman and president of Verizon, whose term limit as Board chair ends in May after having served as Chairman of the Board since October 1997.
"I have worked closely with Virginia at Verizon and as a Trustee at Stevens and am delighted that she has accepted this responsibility," said Babbio. "I wholeheartedly endorse her assuming this important role as Chairman of the Stevens Board of Trustees. Virginia's intellect, leadership, business acumen, and her deep affection for Stevens combine to ensure that the university will continue its ascent in the next decade to meet and exceed the goals of the Strategic Plan."
Verizon colleague and Stevens alumna Annmarie Rizzo added, "I cannot think of a more deserving person than Virginia to be appointed as Chairman of the Board of Trustees at Stevens. Her competence and vision will surely propel Stevens to new heights. I have known Virginia for many years and am thrilled for her. Stevens will thrive under her leadership!"
About Stevens Institute of Technology
Stevens Institute of Technology, The Innovation University®, is a premier, private research university situated in Hoboken, N.J. overlooking the Manhattan skyline. Founded in 1870, technological innovation has been the hallmark and legacy of Stevens' education and research programs for more than 140 years. Within the university's three schools and one college, more than 6,100 undergraduate and graduate students collaborate with more than 350 faculty members in an interdisciplinary, student-centric, entrepreneurial environment to advance the frontiers of science and leverage technology to confront global challenges. Stevens is home to three national research centers of excellence, as well as joint research programs focused on critical industries such as healthcare, energy, finance, defense and STEM education. The university is the fastest-rising college in U.S. News & World Report's ranking of the best national universities, and it is consistently ranked among the nation's elite for return on investment for students, career services programs, and mid-career salaries of alumni. Stevens is in the midst of a 10-year strategic plan, The Future. Ours to Create., designed to further extend the Stevens legacy to create a forward-looking and far-reaching institution with global impact.