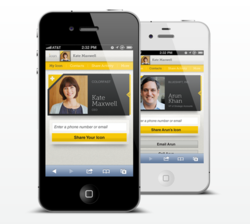 Austin, Texas (PRWEB) March 06, 2013
With thousands of modern professionals around the globe sharing Icons on the heels of its public debut, Icon formally introduces its Icon Pro premium edition today to a rapidly growing user community.
Icon is a patent pending digital business card for the modern professional designed to complement LinkedIn and Twitter. Icons are optimized to be shared with anyone, anywhere via smart phone, email or online – and Icons live in the cloud, so contact information is always up to date. Icons also automatically create rich, dynamic professional profiles by aggregating a user's existing social feeds, allowing them to easily curate their professional persona in a dynamic magazine-like format without the need to manage another profile. After a successful private beta and just in time for SXSW, both Icon and Icon Pro versions are publicly available at http://www.icon.me.
With today's Icon Pro debut, the suite is extended to allow professionals and businesses alike to apply their company's branding as well as gain insights into the power of their outreach and contact network through a personal analytics dashboard. Additionally, Icon Pro users can discover unlimited key commonalities with other users such as common topics, interests and connections.
"For decades, business cards have been an extension of a brand and have served as the primary vehicle for sharing contact information, but have been rendered obsolete simply by the media on which they are presented," says Kent Savage, founder and chief executive officer. "A paper business card simply doesn't do anything. An Icon business card reports back to you with key analytics like who has viewed, saved, and shared your contact information and your professional content."
Icon's SXSW presence will continue through its sponsorship of kickoff networking events, including AGBeat BIG BASHH at The Ranch and Austin Technology Council Gateway VIT Party at ACL Live.
"We're excited to have Icon ready in time for SXSW. With networking at the very core of the event, it's the perfect way to share your contact information and your professional persona while on the go. It's optimized for smart phones and sharing via SMS or email, so if you have your phone on you, you have your business card," says Matt Hovis, co-founder and chief creative officer.
About Icon:
Based in Austin, Texas and created by two of Austin's pioneering digital entrepreneurs, Icon is a "wicked smart" digital business card for the modern professional. Built on the belief that the first impression is the lasting impression, Icon helps you establish and package your personal brand across all of your communication touch points and enhance your business network. Icon is a patent pending cloud-based software service, fully optimized for mobile and all operating systems for desktops, laptops, tablets and smart phones. Privately held and founded in 2012, Icon is now publicly available at http://www.icon.me. Featured Icons can be seen in the gallery at: http://www.icon.me/browse/. You may learn more about the inspiration behind Icon and watch the overview video at http://about.icon.me.