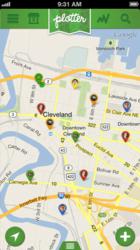 Crowdsource maps of your favorite locations
Cleveland, OH (PRWEB) March 06, 2013
Just in time for South By Southwest, a group of Cleveland- based, digital advertising, marketing and technology professionals have launched Plotter® - a new map-based social network for iPhone.
"Plotter is the first full-featured map app with social capabilities that allows you to create and crowdsource maps of your favorite locations," said Tom Nolan, Founder & CEO of Plotter.
The application allows users to "plot" locations onto customized maps, which they can easily show or hide in a simple map view. By linking their Facebook and Twitter accounts, users can find and connect with their friends to see their maps and give 'plotter recommendations'. Google Places data is built into the app, so plots can contain contact info, photos, reviews, hours and directions.
"The beauty of Plotter is that all of the maps are user-generated and totally unique," said Chris Jungjohann, Partner and COO of Plotter. "Plotter users can create maps of everything from the best restaurants in Cleveland to family vacation destinations."
For users that don't want to create their own maps, or are just looking for inspiration, Plotter's Map Room is a curated collection of popular and featured maps created within Plotter. SXSW conference attendees can easily find maps that cover the best places to visit, dine and hang out while in Austin.
"The Map Room allows you to see what's trending," said Tim Zeller, Partner & CCO of Plotter. "It's the app store for maps and the place where we see the biggest potential for businesses to integrate into Plotter."
Plotter also edged out more than 500 companies to compete in South By Southwest's Accelerator competition. The team will go toe-to-toe with seven other startups in the Social Technologies category, where they'll pitch their revolutionary app to a panel of esteemed venture capitalists and tech entrepreneurs.
"South By Southwest is one of the biggest stages for technology," Said Chad Milburn, Partner & CTO of Plotter. "It's really exciting to be competing against some of the best minds in our field."
And in addition to an Android version arriving later in the year, Plotter has already begun work on a full-featured browser version. "We've also been meeting with car manufacturers on integrating Plotter into the connected car," Nolan added.
Plotter is Free and is now available on the App Store.
For more information, please visit http://www.plotterapp.com or contact Chris Jungjohann at chris(at)plotterapp.com.