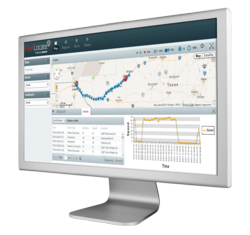 Knoxville, TN (PRWEB) March 06, 2013
Spireon, the leading innovator of Machine-to-Machine (M2M) and Business Intelligence Solutions that connect companies to their mobile assets and workforces, has added another dimension to its already existing GSM technology. Now they are powering their FleetLocate Trailer and Asset Management Solution with next-generation CDMA technology that gives their trailer tracking customers additional reliability and coverage across the country.
"With the integration of the latest CDMA cellular network technology, the FleetLocate Trailer and Asset Management Solution will provide our transportation customers a choice of cellular providers for the coverage and service that best fits their operational needs. Our goal is to provide customers with more options that work for them whether they are looking for CDMA or GSM technology," says Roni Taylor, Vice President of FleetLocate Product Management. "New CDMA capabilities allow our customers to stay connected to the critical trailer Rich Data in real-time with network availability, even when trailers are in remote locations."
The new CDMA capabilities will also provide FleetLocate customers with a choice of network carriers, adding to the flexibility of the solution. CDMA will be available on both the FL11 and FL700 products, both designed to provide trailer fleet managers and owners with an unprecedented level of Rich Data, analytics and tools that allow them to optimize trailer performance.
Along with the new CDMA technology, key differentiators of FleetLocate's Rich Data Trailer Tracking solution include:

Instant access to real-time intelligence
GPS positioning reported every 10 seconds
Ability to track actual turn-by-turn miles with GPS data captured every second
Flexible customized reports that can be scheduled or generated on the fly
PAR reporting tool that identifies the actual number of trailers needed at each location
Exception-based alerts triggered by specific events such as trailers leaving or entering the geofence
Ability to see which trailers are moving or idle
Ability to track trailer speed and heading
Ability to track unauthorized trailer use
Combined, these features enable FleetLocate customers to automate trailer pool management, perform more accurate preventative maintenance, increase turns, right-size and even reduce fleets, redirect underused trailers to locations with higher demand, improve customer satisfaction, encourage customers to unload their trailers first, and do more with less.
"FleetLocate products with next-generation CMDA technology allow fleet owners and managers to increase their trailer IQ and their bottom-line performance," adds Taylor. "This is just one more example of how Spireon continues to embrace emerging technologies that deliver increased competitive advantages for our customers."
About FleetLocate by Spireon
FleetLocate is a powerful, flexible and scalable Rich Data Trailer Tracking and Asset Intelligence solution that provides continuous real-time visibility of large, geographically disperse trailer fleets. Featuring exception-base reporting, FleetLocate is an effective tool for improving operational efficiency, increasing the number of loads per trailer and driving more revenue. The interface is simple to use, easy to navigate, and provides a comprehensive suite of reports designed to help businesses better manage their fleet operations and address many of the operational dilemmas they face daily. To learn more, visit http://www.fleetlocate.com.
About Spireon
Spireon, Inc., is at the summit of business intelligence and committed to going higher. Headquartered in Knoxville, TN, the company emerged in 2011 as the industry leading Mobile Resource Management (MRM) company as a result of the merger of ProconGPS, Inc. with EnfoTrace and PFS, LLC, the top three providers in the MRM space. Spireon connects companies to their mobile assets and workforce through game changing information platforms, giving them the power to manage actionable business intelligence. Its trusted brands include market share leader GoldStar GPS®, EnfoTrace GPS™, FleetLocate®, VehiclePath™ and LoanPlus CMS™. Inspiring companies to reach new heights with powerful Software-as-a-Service (SaaS) based tools; Spireon provides a sturdy foundation on which to optimize performance.
With leading market positions in the fleet, transportation and automotive telematics markets, Spireon, Inc. specializes in developing strong business relationships with leading companies worldwide, enabling it to offer affordable world-class risk mitigation, mobile resource management and location based services to its customers. NSpire, Spireon's revolutionary, new, award winning multi-vertical M2M intelligence platform provides real time analytics, through a scalable architecture and supports over 1.5 million active subscribers today. The NSpire intelligence platform collects rich data from its patented array of GPS products and delivers actionable business intelligence through industry brand for automotive dealers, lender services and delivery fleets, and transportation and logistics customers.
For additional information, please visit Spireon, Inc.'s website http://www.spireon.com.
###
Contact:
Rebecca Nowlin
949-800-9138
rnowlin(at)spireon(dot)com