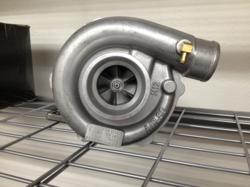 Morgan Hill, CA (PRWEB) March 06, 2013
Andy's Auto Sport is proud to represent a group of newfound partners to help spread quality forced induction products in 2013. These companies were selected for their innovative approaches to developing supercharger kits, turbochargers, and their thorough understanding of the process of forced induction.
The first of these companies is CX Racing, a company based out of South El Monte, California. CX Racing develops turbocharger kits for a bevy of cars, from Audis to Toyotas and everything in between. Not only are they well-versed in the turbocharger field, but they also carry their own lines of coilover kits, big brake kits, engine swap kits, flywheels, radiators and more. For budget-conscious tuners, CX Racing promises easy performance gains with their products.
Andy's has also begun to carry a selection of superchargers from Kraftwerks, ProCharger and Paxton. For anyone who has been interested in modifying cars, these brands are likely to be very familiar. Kraftwerks is a new company that has been focusing on the development of Rotrex superchargers. Rotrex superchargers replace the drive gears found in a traditional centrifugal supercharger layout with what is called a "friction drive system", which reduces heat and results in quieter operation. The Rotrex compressor is capable of revving extremely high and enabling an engine to produce a linear powerband with instantaneous response. The Kraftwerks supercharged Miatas really look the business!
For anyone who has ever considered supercharging their car, or just upgrading their supercharger system, the name "ProCharger" has likely crossed their mind at one point or another. ProCharger is a leading name in the centrifugal supercharger field with years of experience and a patented self-lubricating design. Their supercharger-exclusive oil pumps make installation a breeze, negating any need to drill holes in the oil pan and source a line to the supercharger! In addition, the supercharger kits from ProCharger are equipped with air-to-air intercoolers, which keep charge levels cooler than the competition and improve reliability. When looking to make impressive horsepower gains for your muscle car, sport compact or truck, the time-tested products from ProCharger are a sure bet for anyone looking for proven and reliable performance.
Paxton superchargers is another familiar name to the men at Andy's Auto Sport. Paxton focuses their efforts on just about every Mustang, in fact, with the addition of Paxton's new supercharger kit, the ever-popular 2011-2013 Mustang 5.0 makes 612 smog-legal horsepower, and even more power with proper tuning!
All four of these forced-induction specialty houses are capable of providing staggering, reliable performance for a variety of cars, from Miatas to Mustangs. Their consistent quality and stellar customer service demonstrate these companies are looking out for their customers' best interests. Perhaps with some further research into these brands, you may try to convince your significant other the merits of an improved powerband, greater torque and jaw-dropping acceleration! The guys at Andy's Auto Sport wish you luck!
For more information, visit AndysAutoSport.com, AndysAutoSportTV.com, or YouTube.com/AndysAutoSportTV.
Andy's Auto Sport is an online retailer and wholesaler of OEM and aftermarket automotive parts and accessories, and is the largest retailer of aftermarket body kits in the world, with more than 2 million unique online visitors per month. The company serves customers worldwide and has been featured in magazines such as Import Tuner, Modified, Low Rider, Truckin', as well as on television shows such as Pimp My Ride, Street Fury, Trucks!, and Two Guys Garage.