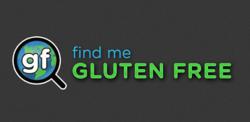 Find Me Gluten Free is a one-stop-shop for all things gluten-free in the palm of your hand.
Austin, TX (PRWEB) March 06, 2013
Millions of Americans have been diagnosed with Celiac Disease and gluten sensitivities recently and consumers are looking for ways to simplify their lives when shopping and dining out. Gluten-Free products are consumed by more than 30 million Americans either out of necessity or by lifestyle choice according to Packaged Facts, a division of Market Research Group. As this number continues to climb, so does consumer demand for good tasting gluten-free food, and yet those same consumers are searching for helpful health information that will make their lives easier.
Find Me Gluten Free, the most downloaded gluten-free restaurant and food product smartphone app for iPhone and Android is proud to announce the launch of its newest feature, "Products", which enables gluten-free shoppers to scan, browse and review food products, even while at home. In addition, Find Me Gluten Free also realized there was a need to keep those gluten-free consumers informed about certain health related topics and ultimately created a streaming gluten-free news aggregator, which includes gluten-free news, advice, reviews and recipes for smartphone users.
"Whether people are traveling, socializing, or just needing a quick bite to eat, everyone who is gluten-free should be able to eat safely and comfortably," explained Darin Alpert, COO, Find Me Gluten Free. "That's essentially the reason why we created Find Me Gluten Free - to make it easier for families to navigate through the vast amounts of information that is out there. We are a one-stop-shop in the palm of your hand." Through Find Me Gluten Free, consumers are able to pinpoint restaurants and stores that have designated gluten-free menus and products. With a community reaching more than 2 million people, Find Me Gluten Free can be utilized to read or contribute reviews about restaurants and products all from their iPhone or Android smartphone app.
Ranked as the top gluten-free app by the App Store for iPhone and Google Play for Android phones, Find Me Gluten Free is poised for even more growth and new users in 2013. For more information about Find Me Gluten Free and to download the free iPhone and Android smartphone apps, please visit http://www.findmeglutenfree.com.

About Find Me Gluten Free:
We strive to help you find all things gluten-free and share your experiences with other people in the gluten-free community. We want to raise awareness for Celiac Disease and gluten intolerance and help educate people about the gluten-free lifestyle, which is why we donate a portion of our proceeds to gluten-free awareness organizations. Visit us at: http://www.findmeglutenfree.com Facebook: http://www.facebook.com/FindMeGlutenFree
Twitter: @findmegf