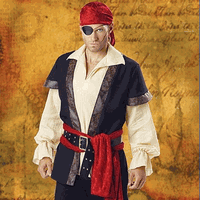 Add a quotWhether the occasion is a pirate festival, media production, or simply standing out in the crowd, Historical Clothing Realm features a wide selection of pirate gear and is excited to be able to offer more.able
(PRWEB) March 06, 2013
It is said that spring brings the best things and such is the case at Historical Clothing Realm this season. Beginning in early April, this costume retailer will be rolling out an expanded line of pirate products. This means a much larger collection of pirate shirts, coats, swords, and a whole lot more for both men and women, sure to please all lovers of the high seas.
Whether the occasion is a pirate festival, media production, or simply standing out in the crowd, Historical Clothing Realm features a wide selection of pirate gear and is excited to be able to offer more. Among the current line of pirate products are costumes fitting for pirates, buccaneers, privateers, and scallywags including tunics, vests, pants, jackets, and boots. Also available are pirate accessories and weapons such as hats, sashes and swords. In addition, some of the pieces are inspired by famous rulers of the high seas like Captain John Silver and Grace O'Malley.
As Historical Clothing Realm adds to its products, the bestsellers will remain intact including the Pirate Complete Costume. This ensemble includes a gauze shirt with an attached embossed vinyl trimmed vest, boot tops, sash, scarf, and bandana. In this costume, there will be no doubt that one is ready to pillage and plunder. A Pirate Lady Complete Costume is also available.
Another noteworthy find for pirate lovers is the Buccaneer coat, which gives off an elegant and powerful appearance. This captain's styled coat comes in a gray color and is constructed of heavy wool with black rayon lining. It has a long period cut, large bell cuffs, and richly antiqued buttons. With authenticity and pure pirate flavor, this piece is perfect for role playing and reenactments.
For a complete catalog of pirate products, visit http://www.historicalclothingrealm.com/.