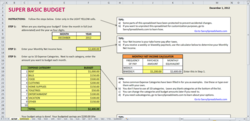 "The 56% no longer have an excuse not to start budgeting."
New York, NY (PRWEB) March 20, 2013
According to the latest Federal Reserve figures, Americans owe a total of nearly $2.8 trillion in consumer debt – not including mortgages and home equity loans. Considering that there are 315 million Americans according to the US Census Bureau, this means that the average American owes about $8,900 in non-mortgage related consumer debt. While this may sound like an alarmingly high number, it's even more shocking to learn that most Americans don't use a budget to track their spending or manage their personal finances. According to a recent survey released by the National Foundation for Credit Counseling, over half of Americans (56%) do not use any type of budget whatsoever.
Coincidentally, 90% of the average debt figure is the amount that the average American spends on non-essential items each year. Based on the latest annual Consumer Expenditures report released by the Bureau of Labor Statistics, Americans are spending an average of nearly $8,100 a year on non-essential items such as dining out, clothing, entertainment, and alcohol. It's pretty clear that discretionary, or non-essential spending has aggravated, if not caused, the consumer debt problem. If people were able cut down their non-essential spending they would have a much easier time paying off debt.
The most effective way to cut down on discretionary spending and build savings is to use a budget. Janet Kim, founder of Savvy Spreadsheets, said she saved almost $3,000 in the last four months since she's created a budget spreadsheet and actively monitored her spending. As someone who lived paycheck to paycheck for many years prior to budgeting, Janet is now a believer in the power of budgeting. She says that her savings grew despite no major change in lifestyle and believes that the sheer act of tracking expenses subconsciously makes people spend less.
With so many budgeting solutions out on the market, it's bewildering why so many Americans are still not using one. Janet has some theories why. She says that software solutions can be prohibitively expensive and online tools can raise security concerns. Therefore, many people are drawn to idea of an inexpensive spreadsheet that can be downloaded and accessed offline. The problem is a lack of simple templates that people actually want to use. She says, "Although there are a ton of free budget spreadsheets out there, many of them are counterintuitive and painful to use. People have a lot going on these days and the last thing anyone wants is the added stress of dealing with a complicated budget worksheet."
Based on her theory that people want simplicity, Janet launched Savvy Spreadsheets with the goal of creating user-friendly Excel templates that people will actually want to use. Savvy Spreadsheets' first product is the Super Basic Budget – a budget template so simple that it "makes budgeting enjoyable," Janet says. With this free downloadable template, Savvy Spreadsheets' target demographic is those that want the most straightforward and least time-consuming option there is. Janet says, "With my new template, the 56% no longer have an excuse not to start budgeting."
About the Company
Savvy Spreadsheets was started in January 2013 with the aim of bringing simplicity and order into people's lives through user-friendly Excel templates. The company currently offers multiple downloadable spreadsheets and plans to add additional templates for a variety of uses. To find out more about Savvy Spreadsheets or to download the currently available templates, visit http://www.savvyspreadsheets.com.