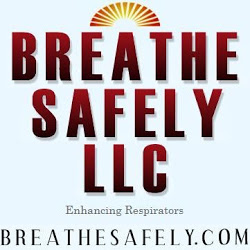 Baxter, MN (PRWEB) March 06, 2013
Breathe Safely , Inc is pleased to announce the issuance of U.S. Patent number 8,381,727 titled, "Face Mask With Seal Within Seal and Optional Bridging Seal." Also part of the patent is the Information Disclosure Statement, that brings information into the patent . This consists of studies from the International Society for Respiratory Protection (ISRP) and study titled, "Performance of an N95 Filtering Face-piece Particulate Respirator and Surgical Mask During Human Breathing: Two Pathways for particle Penetration." Breathe Safely aims to overcome this serious oversight in the respiratory industry.
When visiting urgent care or emergency room, many patients and visitors will be wearing a mask or respirator. These respirators or masks are often dispensed and freely available to anyone visiting the medical center. However these very respirators or masks fail to do the job they are intended to do properly by 31.5% failure . A number that has been tested and tried, known to be true. Clearly stated in, UPI.com's March 31, 2012 test information entitled, "Poorly Fitting Respirator Bad as Loose Mask."
Current "one size fits all" technology does not prevent leakage from occurring between the face and perimeter of the mask or respirator. Not all face shapes are similar. Head movement and even just talking creates gaps between the face and mask or respirator, meaning hazardous air-flow goes around mask or respirator perimeter directly to lungs rather than through the filtering device. The industry term for this is "inward leakage at the facial seal. The solution has been outlined clearly, here: http://www.prweb.com/releases/2011/02/prweb3420954.htm
Breathe Safely's technology allows respirators or masks to accomplish what they are intended to do which is to allow airflow through filtration material of the mask or respirator then safe air into lungs. By eliminating inward leakage at the facial seal, Breathe Safely has defined what will become a new standard for masks and respirators.
Breathe Safely's new patented multi-bead seal is engineered to be skin friendly utilizing a rubber-like elastic, anti allergenic adhesive. This adhesive creates an airtight seal between the mask or respirator and the face. The patented multi-beaded design accommodates various face shapes, sizes and stays sealing during talking and head movement.
Independent test results show that 100% of the participants felt safer using the Breathe Safely seal and the majority felt more comfortable while wearing it.
The need is expressed in the calender handout given to researchers, manufactures and distributors at the ISRP September 2012 Boston conference, by NIOSH, CDC and NPPTL stating "Have You Checked Your Seal?" For more on this, visit http://www.breathesafely.com and http://youtu.be/iZIr7UMDPfw