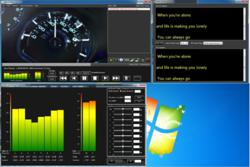 Tampa, Florida (PRWEB) March 06, 2013
Vela Research today introduced the ArgoNavis QC/V - its comprehensive ArgoNavis QC solution for broadcasters, cable operators, satellite providers, programmers, IPTV and content creators, syndicators and distributors to play back, analyze, verify and QC high bitrate mezzanine video content
Vela's ArgoNavis solutions are elegant, compact, easy-to-deploy and integrate systems that provide a full set of video and audio formats and protocols, 608 and 708 Closed Captioning, VANC and metadata capabilities, SDI and ASI interface options, and intuitive user-interfaces allowing local and remote control and convenient integration into your network's existing and future workflows.
The ArgoNavis QC/V system provides a highly agile and comprehensive solution for call letter stations, Station Groups, cable TV operators, satellite distributors, content providers and others to ensure the quality and integrity of source or mezzanine files and content early in the workflow, and prior to further processing of their premium content. Operators are determined more than ever before, to maximize the distribution and monetization of high value unique content by re-purposing it into myriad forms so that it may be marketed to a wide range of viewing groups, across a diverse set of geographic markets and cultural groups, and able to be viewed over an extensive array of viewing devices.
In current-day workflows, high bitrate mezzanine source content is usually received from a number of sources. Some of these sources are more reliable than others, but operators likely verify the quality and integrity of all of them. The ArgoNavis enables the QC/verification early in the workflow process, prior to transcoding, metadata, audio and Closed Captioning enhancements and trans-rating for widespread dissemination and propagation throughout the distribution chain, as well as content preparation prior to actions for archiving and compliance policies. The ArgoNavis provides the ability to be flag errors in the content, and to alert the user to any such errors. It allows users to extract, parse and flag errors in closed captioning, to look for black or missing frames in the video, and to look for audio anomalies in the mezzanine files.
The ArgoNavis QC/V is effectively a highly advanced system supporting an exhaustive range of video and audio formats, and providing an easy-to-use GUI that makes the process of integrating into existing workflows quick and easy. It helps operators build confidence in their programming by ensuring the quality of the high bitrate source content early in the processing and re-purposing chain. The system comes in a quiet, elegant 1.5 RU form factor, 3TB of built-in storage, and HD/SD-SDI, HDMI and Analog I/O. The solution supports a wide range of audio types associated with mezzanine files, including SMPTE 302M PCM, LPCM, AC-3 and other formats. It also supports Apple ProRes and other high level and editor formats to ensure quality of the source content. A powerful API along with modifiable sample applications is available for operators seeking to customize the solution to their specific workflow, feature and interface needs.
Please request further information and spec sheets on Vela's solutions here. For further information or to test-driving these solutions, please contact Kevin McDowell at 954-558-2063 kmcdowell(at)vela(dot)com.
About Vela: Vela® is an Emmy® award winning company offering a complete range of high quality SD and HD products for the broadcast, cable, post production, enterprise and education markets. Vela designs and manufactures system and board level solutions used in a variety of media applications. The board level products are also integrated into advanced systems and video servers offered through Vela and its partners. Over the past 18 years, Vela has earned recognition by virtue of the trouble-free, high-performance and cost-effective solutions in use in demanding customer environments worldwide. Vela is based in Clearwater, Fla., USA, and is on the web at http://www.vela.com.