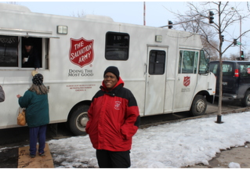 Those that will be most affected by Alderman Cappelman's indescriminate actions will be African-Americans, seniors, the unemployed, the disabled and veterans.
Chicago, Illinois (PRWEB) March 06, 2013
A demonstration / protest is scheduled for WEDNESDAY, March 6, 2013, at 5 PM outside of 46th Ward Alderman James Cappelman's office located at 4544 North Broadway, Chicago.
Alderman Cappelman initiated actions to force out the poor from his ward since taking office almost two years ago, with the most recent on March 1, 2013, when he ordered the Salvation Army to stop feeding the poor in his ward.
Alderman Cappelman also recently introduced an Ordinance to shut down the last two remaining "men's cubicle" hotels that would force over 400 impoverished men from their homes onto the streets or into already overcrowded City shelters, according to the Sun Times article
The Wilson Men's Hotel at 1124 W Wilson Avenue and the Ewing Annex at 426 S Clark Street have been operating since the 1920s to provide housing for low-income men. Since the introduction of this Ordinance, Duane Rajkowski, one of the residents living at the Wilson Men's Hotel, said has been told by Alderman Cappelman's office that the Wilson Men's Hotel will be closed "in a matter of days" and to find alternate housing immediately. These scare tactics have made Duane and other residents fearful, as there are no similar affordable options for them.
The demonstrators expected include hotel residents, homeless, near homeless, homeless prevention advocates and others who fear that he will succeed in driving the needy out of his ward. Also included in this groundswell of community support is The Chicago Coalition for the Homeless (CCH), Organization of the Northeast (ONE), Northside Action for Justice, Lakeview Action Coalition, Cornerstone Community Outreach, Streetwise, Chicago Alliance to End Homelessness, Single Room Housing Assistance Corporation (SRHAC), the Shriver Center and others. The heavy-handed and insensitive tactics Alderman Cappelman has taken with regard to the poor and charitable organizations, like the Salvation Army, has provoked this protest.
Demonstrators have said that the most affected people by the Alderman's indiscriminate actions will be African-Americans, seniors, the unemployed, the disabled, and veterans. Cubicle hotels house a disproportionate amount of these "at risk" individuals.