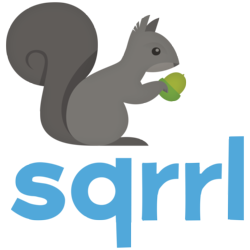 "sqrrl brings important new Big Data capabilities to bear that our customers need." - Brian Jones, Technica Director of Strategic Alliances
Cambridge, MA (PRWEB) March 07, 2013
sqrrl, the leading provider of software for Apache Accumulo, today announced that its software product, sqrrl enterprise, has been added to NASA's Scientific Engineering Workstation Procurement IV (SEWP IV) Government-wide Acquisition Contract through a reseller agreement with Technica Corporation, an innovative provider of high-quality IT solutions for both government and commercial networks.
sqrrl helps government and commercial customers tame Big Data using the scalability, security, and flexibility of Apache Accumulo. Accumulo is a NoSQL database originally developed by the National Security Agency and now available to others as an open source software project via the Apache Foundation. sqrrl's distribution of Apache Accumulo provides users with additional data ingest, data management, data security, and analytic features not available in the open source version.
"Technica seeks out technology solutions that are both cutting-edge and cost effective for its government customers," said Brian Jones, Technica's Director of Strategic Alliances. "sqrrl brings important new Big Data capabilities to bear that our customers need."
SEWP IV allows federal agencies and their authorized contractors to buy products and services without having to secure multiple quotes in an RFP procurement process. Because the contract has already been pre-competed, government customers can quickly and easily purchase sqrrl software. All US government civilian agencies and Department of Defense branches can procure sqrrl solutions through the Technica SEWP IV Contract #NNG07DA29B.
"For government customers trying to figure out Big Data, sqrrl can provide a unique solution. We are the only real-time data store that combines fine-grained security controls, scalability to the 10s of petabytes, flexible schemas for unstructured and semi-structured information, and diverse analytical capabilities," said Ely Kahn, Vice President of Business Development at sqrrl. "Our team has worked with some of the world's largest, most complex, and most sensitive data sets, and now we are ready to bring those capabilities and lessons learned to customers throughout the government."
About Technica Corporation. Technica Corporation, founded in 1991, provides high-end advanced IT solutions to the Department of Defense and other federal agencies. Core competencies include Network Security and Information Assurance (IA), Network Management Integration, Service Oriented Architecture, Enterprise Application Integration, Enterprise Architecture, Software Development, Independent Verification and Validation, Network Transport Technologies and Program Management. Technica is a veteran and minority-owned small disadvantaged business. Technica is an Equal Opportunity Employer. For more information, please visit: http://www.technicacorp.com.
About sqrrl. sqrrl was founded in June 2012 by the creators of Apache Accumulo. With their roots in the U.S. Intelligence Community, sqrrl's founders have deep experience working with and building applications for complex petabyte-scale datasets. sqrrl's software product, sqrrl enterprise, is powered by Apache Accumulo, and it is a secure, massively scalable data store for real-time analytics. sqrrl is headquartered in Cambridge, MA and is a venture-backed company with investors from Matrix Partners and Atlas Venture. For more information, visit the company's website at http://www.sqrrl.com.