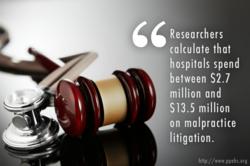 each hospital is spending from $2.7 million to $13.5 million on malpractice litigation
Chicago, IL (PRWEB) March 06, 2013
In a recently released study published in the January 2013 edition of Health Affairs, researchers found that on average physicians spend about 11 percent of their time defending malpractice claims.
The study concludes, "Although damages are a factor in how doctors perceive medical malpractice, even more distressing for the doctor and the patient may be the amount of time these claims take to be adjudicated. We conclude that this fact makes it important to assess malpractice reforms by how well they are able to reduce the time of malpractice litigation without undermining the needs of the affected patient."
To reduce the amount of litigation costs paid and time spent by healthcare providers, the Physician-Patient Alliance for Health & Safety just released five resources to help reduce the costs of adverse events.
According to the Institute of Medicine, each preventable adverse event costs about $8,750. This excludes potential litigation costs, which when included substantially increase the costs of not avoiding adverse events.
In "Malpractice Litigation and Medical Costs", researchers calculated that malpractice litigation accounts for roughly 2-10% of medical expenditures.
According to the American Hospital Association, total expenditures for the 5,724 registered hospitals in 2011 were $773,546,800,000 or an average of $135,140,950 per hospital. This means that each hospital is spending from $2.7 million to $13.5 million on malpractice litigation.
These figures are supported by estimates from the American Medical Association that calculated that it costs $110,000 per case defending claims.
In short, being patient safe can reduce a malpractice costs and reduce time spent on malpractice claims.
For further resources on reducing the costs of adverse events, please visit http://www.ppahs.org
About PPAHS
The Physician-Patient Alliance for Health & Safety (PPAHS) is an advocacy group devoted to improving patient health and safety. PPAHS supporters include physicians, patients, individuals, and organizations.
PPAHS recently released a concise checklist that reminds caregivers of the essential steps needed to be taken to initiate Patient-Controlled Analgesia (PCA) with a patient and to continue to assess that patient's use of PCA. For more information and to download the PCA safety checklist, please visit http://www.ppahs.org