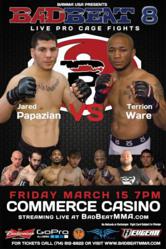 The highest level of MMA skills will be on display - Brett Roberts, BAMMA USA CEO
Santa Ana, CA (PRWEB) March 06, 2013
The Main Event will be a battle between UFC veteran Jared 'The Jackhammer' Papazian and the up-and-coming prospect whose stock continues to rise, Terrion 'Flash' Ware. In addition, top Badbeat MMA featherweights Steve 'The Dream' Magdaleno and Chris 'The Urban Legend' Culley square off in the Co-Main Event. The Badbeat 8 Main Card is rounded out by some highly anticipated bouts, which include Mychal 'Bolo' Clark, Diman 'Steel Legs' Morris, Joseph 'Leonidas' Henle, Miguel Cosio, Tom 'The Grinder' Gloudeman and Ernest Chavez. BAMMA USA CEO Brett Roberts described the fight card as "one of the best we have had for Badbeat MMA," adding that "the highest level of MMA skills will be on display for this event." Badbeat MMA is the professional MMA fight league of BAMMA USA.
Main Event: Jared 'The Jackhammer' Papazian (14-9-0 1NC, 1-0 B-MMA) vs. Terrion 'Flash' Ware (4-1, 1-0 B-MMA)
Jared Papazian makes his Badbeat MMA return in the Main Event of 'Badbeat 8 presented by Budweiser'. Papazian recorded a unanimous decision win at Badbeat 1, and after a three fight slide in the UFC, 'The Jackhammer' looks to regain his winning ways in his return to the Badbeat MMA cage. Terrion Ware, on the other hand, is on a two-fight win streak, his last coming by split decision at Badbeat 7. Both fighters look to remain undefeated in the promotion and the winner looks to solidify their position in the Badbeat MMA Bantamweight Division.
Co-Main Event: Steve 'The Dream' Magdaleno (9-3, 1-0 B-MMA) vs. Chris 'The Urban Legend' Culley (15-10, 2-0 B-MMA)
Steve Magdaleno is enjoying a three-fight win streak with his last victory coming at Badbeat 6 where he displayed an impressive use of elbow striking which led to a first round TKO win for 'The Dream'. Chris Culley is on a two-fight winning streak of his own, both have come inside the Badbeat MMA cage. 'The Urban Legend' comes off of a TKO finish of his own in his last bout. These two fighters like to finish their fights, the question is, who will succeed? Who will keep their win streaks in the promotion going? All questions will be answered at Badbeat 8.
Mychal Clark (9-13, 1-0 B-MMA) vs. Diman Morris (4-1-1, 0-0-1 B-MMA)
On March 16, 2012, Mychal 'Bolo' Clark executed and landed a spinning back elbow right on the bridge of Josh Bennett's nose. Not only did the TKO win bring an eruption of applause from the Badbeat 5 crowd, it also brought national media attention to the former Strikeforce veteran. Clark aims to continue the momentum going for him at Badbeat 8. Diman 'Steel Legs' Morris' last Badbeat MMA appearance was an unimpressive three round lackluster performance against Nick Moghaddam, which the judges ruled a draw. Now that Morris has changed camps and is more focused on professional fighting, he is prepared for a three round war with Mychal Clark.
Joseph 'Leonidas' Henle (8-1-1, 1-0 B-MMA) vs. Miguel Cosio (2-10, 0-1 B-MMA)
From November 2010 to August 2012, Joseph 'Leonidas' Henle reeled off five consecutive wins including an impressive first round TKO victory at Badbeat 3 in August of 2011. This will be a rare local appearance by the 'TUF' (The Ultimate Fighter) Season 5 cast member and current MFC middleweight contender, when he faces Miguel Cosio. Though Cosio's MMA record may not show it, the Muay Thai champ is an ever-evolving striker; and with his 6'4" frame, Cosio poses a tough matchup for any middleweight or light heavyweight fighter.
Tom Gloudeman (6-3, 0-2 B-MMA) vs. Ernest Chavez (5-0, 0-0 B-MMA)
For most in the audience at Badbeat 7 last October, Tom Gloudeman was a minute and a half away from earning a decision victory over Chris Culley. However, Culley turned it all around when he connected with a couple of strikes leading to a TKO win in the last minute of the fight. 'The Grinder' Gloudeman is more hungry than ever to earn a win in the Badbeat MMA cage but he has to get past Ernest Chavez first. Chavez, a BJJ practitioner, makes his promotional debut at Badbeat 8. With over half of his wins coming by way of decision, fans can expect a grind-it-out performance by these two high-caliber fighters. A victory may come down to which fighter can capitalize on their opponent's mistake.
Featured Preliminary Fight: Valdez vs. Bahngte
The Preliminary Card features a mix of young up and coming fighters looking to a make their mark in the promotion along with experienced MMA fighters looking to continue their climb to Main Card status. In the Badbeat MMA Lightweight Division, the scheduled fight between Matt Bahngte and Jorge 'The Envy' Valdez will be the featured fight on the preliminary card for 'Badbeat 8 presented by Budweiser'.
Badbeat 8 presented by Budweiser
When: Friday, March 15, 2013
Doors open at 6:00 p.m.
First fight at 7:00 p.m.
Where: Commerce Casino
6131 Telegraph Road
Commerce, CA 90040
Main Card*
Main Event- 135 lbs: Jared Papazian (14-9-0 1NC) vs. Terrion Ware (5-1)
Co-Main Event- 145lbs: Steve Magdaleno (9-3) vs. Chris Culley (15-10)
205 lbs: Mychal Clark (9-13) vs. Diman Morris (4-1-1)
Catch weight- 195 lbs: Joseph Henle (8-1-1) vs. Miguel Cosio (2-10)
155 lbs: Tom Gloudeman (6-3) vs. Ernest Chavez (5-0)
Preliminary Card*
Featured Fight- 155 lbs: Matt Bahngte (2-2) vs. Jorge Valdez (5-2)
145 lbs: Eric Winston (3-1) vs. Jose Morales (4-7)
170 lbs: Xavier Stokes (4-4) vs. Adam Gonzalez (5-0)
125 lbs: Latif Idris (1-0) vs. Anthony Frank (1-1)
145 lbs: Kenny Quach (4-2) vs. Dominic Gutierrez (4-17)
145 lbs: Nick Jordan (0-1) vs. Reshan Sabaratnam (0-0)
*=All bouts subject to change
Ticket Information
Ticket prices range from $60 to $120 per person. Online ticket orders available through TicketForce or visiting http://www.BammaUSA.com. VIP Tickets ($130 or $150 per person) or VIP Tables for 4 people ($700 per table) are available by calling 714.912.8822.
In response to its growing national and international fan base, BAMMA USA will broadcast Badbeat 8 live on the internet via Livestream's upgraded platform New Livestream. Internet viewers will be asked to join New Livestream directly or sign in through their Facebook account to enjoy the free telecast**.
**=Blackout restrictions will apply locally
About Badbeat MMA
Badbeat MMA is a mixed martial arts promotional organization specializing in creating live entertainment, featuring professional combatants. It is southern California's leading mixed martial arts organization, providing the area with consistent events and opportunities to professional athletes.
Currently stationed out of southern California, Badbeat MMA promotes the area's top local talent from mixed martial arts gyms such as CSW, Knuckleheadz Boxing & MMA, Elite MMA, Kings MMA, PKG, Joker's MMA/Lightning MMA, The Bodyshop, Reign Training Center, Total MMA Studios, Ace Jiu-Jitsu, Cobra Kai, Gracie Morumbi, Cesar Gracie Jiu-Jitsu Academy, The Arena, Subfighter MMA, as well as many others.
Past and current fighters who have worked with BAMMA USA founder Brett Roberts include: Mike 'Joker' Guymon, Vladimir 'The Janitor' Matyushenko, Joseph 'Leonidas' Henle, Georgi Karakhanyan, Gabe 'Godzilla' Ruediger, Jason Lambert, Chad 'The Savage' George, Albert Rios, 'The Real Deal' Chris Beal, Jack 'The Outlaw' May, Jared 'The Jackhammer' Papazian, and more.
While the promotion prides itself on the motto: "Keep Moving Forward," the ultimate passion for Badbeat MMA is to create an environment in which fighters are truly valued.
Web site: http://www.BadbeatMMA.com
Facebook: http://www.facebook.com/bammausa
Twitter: @BAMMAUSA
About TicketForce
TicketForce utilizes a powerful web-based ticketing system to provide venues, promoters, festivals, arenas and civic centers with a fully-customizable solution for full-service ticketing and box office management. TicketForce provides a complete suite of scalable products and services, including EasyTix – offering low, fixed fees, free call center support, and no equipment costs with minimum sales. Sales at http://www.myeasytix.com. All solutions include print-at-home ticketing, electronic will-call, access control, payment processing, management tools, and real-time reporting. More information is available at http://www.ticketforce.com and http://www.myeasytix.com
About Livestream
Livestream is the market leader for live event coverage. With simple to use technology, our service allows anyone to broadcast live to the web, as well as being the top destination for live content from around the world. Our clients include Facebook, The New York Times, ABC News, CBS News, Associated Press, HBO, AT&T, PepsiCo, Electronic Arts, Adidas, The Academy Awards, Warner Bros. Records, and Paramount Pictures.
Livestream operates with over 120 full-time staff members in 4 offices—in New York (headquarters), Los Angeles, Bangalore, and the Ukraine. The service is available for free (advertising-supported) or as a feature-rich, monetizable, premium service for business.
The New Livestream is an innovative new platform that combines live video with real-time photos, text, and video clip updates. The technology supports live blogging all executed with ease using the real-time posting tools from both mobile and the web. Features on the New Livestream include an improved video player and an array of new tools that allow more people to discover your event, interact with it and share it across the web.
More information can be found at new.livestream.com.