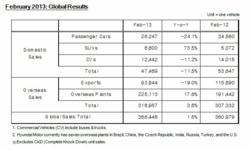 (PRWEB) March 06, 2013
In terms of passenger car sales, Hyundai finished in third position with 4,918 vehicles sold and an 11.3% market share.
February saw five models in the Hyundai range achieve top three placings - the Veloster, ix35, iLoad, and iMax finished second, and the i30 ranked third in each of their respective categories.
Hyundai Motor Company Australia February highlights:

Light Cars <$25k: Hyundai ranked second with combined sales of Accent at 730 units and i20 at 703 totalling 1433 vehicles sold, a segment share of 13.3%
i30 ranked third in Small Cars <$40k, posting a sales result of 2,055 units and a segment share of 11%
Veloster ranked second in the Sports <$80k segment, posting 329 sales and a segment share of 18.3%
ix35 ranked second in the SUV Small <$40k segment, achieving 1,534 vehicle sales and a share of 27.5%
iMax ranked second in the People Mover <$55k segment, posting a sales result of 110 units and a share of 19.1%
iLoad ranked second in the Van/CC 2.5-3.5t segment, posting a sales result of 441 units and a share of 33.1%
Overseas, Hyundai Motor America announced a continuation of their energetic start to 2013, led by Santa Fe and the award-winning Elantra, recording an all-time February record sales result of 52,311 units, up +2% year-on-year.
Globally, Hyundai Motor Company sold 366,446 units in February, an increase of, +1.5% over the same period in 2012.