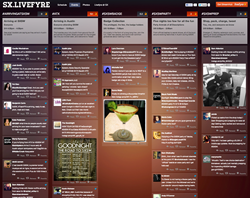 San Francisco, CA (PRWEB) March 06, 2013
Livefyre, the leading provider of real-time social software for publishers and brands, today launched SX.Livefyre.com, a social hub for following the hottest keynotes, sessions, parties and events during SXSW Interactive. The site curates social conversation about the conference in real time, enabling visitors to discover which events are the most buzzed about in Austin.
SX.livefyre.com aggregates social content about specific hashtags and topics in real-time from Twitter, Facebook and Instagram. Every piece of content is interactive, enabling people to engage with the SX community and other visitors around specific topics.
SX.Livefyre.com includes:
Daily Schedule: Discover the hottest parties, events and keynotes based on how many people are talking about them on Twitter, Facebook and Instagram. Read what people are saying on social networks and jump right into the conversation.
Events: This session tracker offers a side-by-side view of what people are saying across social media about the most provocative talks, panels and keynotes at #SXSW. Later in the evening, you'll be able to see the parties and events that are taking over Austin.
Photos: Here users can browse live photos that are posted to Instagram and Twitter from the best #SXSW happenings around Austin.
Livefyre at SX: Livefyre is heating up Texas with a giant #Fyretruck that will be making its way around Austin and our annual #Fyrebash party on Sunday night, featuring live performances by artists Vacationer, Body Language and The Hood Internet. Follow the live stream for clues to find the #Fyretruck and win swag, party wristbands and more!
Livefyre CEO and Founder Jordan Kretchmer said, "With so many announcements, parties and activities at SXSW, it's nearly impossible to keep up with what's really driving conversations during the event. SX.Livefyre.com allows those attending to discover which events they'll want to check out, and allows anyone who can't make it to Austin to feel like they're in the middle of the SXSW action."
Other brands including Mashery's Circus Mashimus will be using Livefyre to curate and display social buzz about their events at SXSW.
SX.Livefyre.com is availabile immediately and will be curating live experiences through the end of the Interactive conference on March 12th.
About Livefyre
Livefyre is bringing social to the rest of the web, helping brands build engaging real-time conversations and community around their owned content. The company's suite of real-time products are defining a new breed of web and mobile experiences that boost website traffic, increase user engagement and drive revenue. As the seventh largest network online, Livefyre is powering real-time social experiences for leading brands including American Idol, Bravo, CBS, Conde Nast, FOX Sports, Newsweek/Daily Beast, Showtime, Sports Illustrated and The New York Times.
Founded in 2009, Livefyre is located in San Francisco. For more information, visit http://www.livefyre.com.