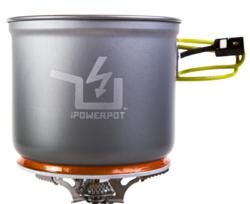 This is our first big-box on the retail front, but certainly not the last.
Salt Lake City, UT (PRWEB) March 06, 2013
It happens everyday. A brave adventurer is enjoying the great outdoors one minute, and the next takes a wrong turn and gets lost. Sure, there are many ways out of this situation, but one of the safest is to use GPS capability on a smartphone or a standalone device. On extended adventures, keeping these devices charged is a real challenge. That's why Power Practical has developed the PowerPot, a lightweight generator that doubles as a mess-kit.
The popular new product debuted last year on Kickstarter, and has since received critical acclaim. GearJunkie listed it in their top gear picks of 2012, and the Da Vinci Institute named it their 2012 Invention of the Year. To boot, the PowerPot is now making its retail debut in several stores and chains across the United States.
Last week, Power Practical announced a new retail partnership with Sportsman's Warehouse, who will begin to stock the device in its retail outlets. This is the first of many retail chains that will be supplying the PowerPot, says CEO of Power Practical Matt Ford. "Sportsman's Warehouse is our first big-box on the retail front, but certainly not the last. We're working on establishing relationships with distributors and retail franchises in every corner of the US," said Ford.
The niche device is a big hit in the outdoor space, especially among backpackers and off-grid enthusiasts. It serves a unique dual-purpose by providing electricity while heating up a pot of water, something that backpackers already do on a regular basis. This allows the most adventurous of trekkers to leave the batteries at home and only pack the bare essentials.
Alongside the development of portable USB chargers is the development of USB-powered devices. In the past couple of years, companies ranging from Black Diamond to Steri-Pen to Garmin have developed headlamps, water purifiers, GPS devices and two-way radios that charge via USB. The proliferation of USB-ready devices and generators like the PowerPot give adventurers a whole new lineup of rechargeable devices that don't need extra batteries.
The PowerPot uses solid-state thermoelectric technology to convert heat into electricity with no moving parts. It requires a temperature difference to function, which is easily achieved with a hot flame and a liter of water. Even at boiling, water never approaches the temperature of an open flame. This means the PowerPot can sustain a temperature difference and supply power in any situation where boiling water is possible. To learn more about the PowerPot and thermoelectric technology, check out the official website at thepowerpot.com.