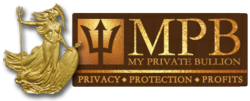 We're seeing a definite increase in the number of people who are coming to us looking to invest IRA funds in gold and other precious metals," said Alex Viera of My Private Bullion
Culver City, CA (PRWEB) March 06, 2013
Fed up with weak returns and a growing risk of inflation, many investors now see using their IRA to invest in gold as their best long-term, low-risk investment strategy.
"We're seeing a definite increase in the number of people who are coming to us looking to invest IRA funds in gold and other precious metals," said Alex Viera of My Private Bullion, a boutique full service precious metals sales and investment consulting firm. "And the truth is since the US went off the gold standard in 1971, gold has consistently outperformed stock market, real estate and currency investing."
According to a recent Wall Street Journal MarketWatch column written by Diana Furchtgott-Roth, the current weak dollar "penalizes those who save and who live off of savings. Frugality is punished, and spending, especially on credit, is rewarded. The elderly who have saved money for retirement find that their nest eggs do not produce as much income as anticipated. As inflation rises, as it has always done after monetary growth, the nest eggs shrink together with the value of the currency."
The article, which is entitled "The Fed isn't Helping Economic Growth," goes on to criticize the economic policies of President Barack Obama and Federal Reserve Chairman Ben Bernanke arguing that generous monetary policies result in higher commodity prices and lower interest rates, ultimately harming the economy.
According to the article, "seniors ages 65 and over made an average of $3,154 from interest in 2011, and an average of $31,557 in total income. Thus on average, 10% of their income came from interest. A higher interest rate would have raised the income of seniors by thousands of dollars."
All the doom and gloom news about the dollar, interest rates and the economy is spurring investors to seek out more secure investing options.
"And when looking at one's investment options, gold really stands out," said Alex Viera "For example, gold prices have trended upward for the past 10 years and experts expect them to continue rising. Plus, the value of gold has also remained steady over time - for example, gold 100 years ago would have bought the same amount of goods as gold today."
Still in spite of all the glowing statistics, one of the biggest reasons more people are using their IRA to invest in gold may be a really simple one.
"It's becoming more popular because it's easier to do now," Alex Viera said. "In fact, many businesses, mine included, are willing to guide investors step by step through the entire process."
Once they've invested in gold, some of the benefits buyers can experience over stock, bond and mutual fund investing include:

The buyer gets to maintain physical possession of the gold coins
The buyer gets to avoid costly transaction fees that commonly accompany stock market and other types of investing
Buyers protect themselves against the risks of investing solely in stocks, bonds and mutual funds
To learn more about investing IRA funds in gold and other precious metals, please visit http://www.MyPrivateBullion.com or call 310-912-3450.
ABOUT MY PRIVATE BULLION
At My Private Bullion, individual service, asset protection strategies and wealth management solutions are the foundation of the business. The company also believes that today's investors need a protection plan and a profitability plan that the rest of the precious metals industry is simply not providing.
My Private Bullion's specialty is finding specific coins for buyers that will increase in value over time, well above bullion coins of similar prices. The company's services include individuals, IRA's, 401K's and entire company retirement plans as well. My Private Bullion's commitment is to learn an investor's individual goals and objectives, and tailor personalized solutions to meet their specific needs.
My Private Bullion
Contact: Alex Viera
Telephone: 310-912-3450
Website: MyPrivateBullion.com