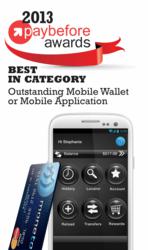 Our moneto offering is uniquely positioned in the industry and we are absolutely delighted to have been recognized by PayBefore for the unrivaled value the moneto prepaid MasterCard and the moneto mobile app offers its users
Richardson, TX (PRWEB) March 06, 2013
Awarded at the ongoing Prepaid Expo in Orlando, DeviceFidelity's mobile enabled moneto Prepaid MasterCard® has been adjudged the winner of the 2013 Paybefore Award for the "Best in Category – Outstanding Mobile Wallet and Application". DeviceFidelity's moneto solution was favored over the other two outstanding mobile application winners, PayPal and H&R Block, to receive the "Best In Category" recognition of excellence in the worldwide prepaid and emerging payments industry.
"Our moneto offering is uniquely positioned in the industry and we are absolutely delighted to have been recognized by PayBefore for the unrivaled value the moneto prepaid MasterCard and the moneto mobile app offers its users," said Youri Bebic, General Manager of Prepaid Card Services for DeviceFidelity. "We plan on adding even more innovative and consumer-centric services to our prepaid platform to ensure the moneto prepaid MasterCard outperforms its newly acquired reputation as the most outstanding mobile wallet and application on the market."
To decide moneto as the winner, the finalists in the category were voted upon by a panel of five judges, along with a sixth judge comprised of online votes for Best in Category on the PayBefore website. The instant money transfer, instant cash back and NFC mobile payment upgrade features in the moneto wallet were cited as key differentiators.
"The moneto prepaid MasterCard and mobile app combines the best of GPR prepaid with free person-to-person transfers and instant cloud-based cash back," said Marilyn Bochicchio, Paybefore's CEO "moneto brings the immediacy of mobile to a prepaid financial product."
The moneto prepaid MasterCard is redefining the prepaid market. Compatible with iPhone and Android, it comes equipped with a feature rich mobile application that allows users to easily, access, manage, and use their prepaid card right from their mobile phone. To clearly make it stand apart, moneto also has an optional mobile payment feature that enables NFC on the iPhone and Android devices, for contactless payments using MasterCard® PayPass™. Customer favorites like instant Cash Back, Person-to-Person Transfers and Bill Pay can be accessed online or through the mobile app.
The moneto program is available for immediate sign up to all iPhone and Android users in the US, by downloading the moneto app on to the mobile device and completing the sign up process. Upon successful consumer verification, the account is activated immediately, and a moneto prepaid MasterCard is shipped directly to the users home.
About DeviceFidelity
DeviceFidelity, Inc. develops plug-and-play technologies that empower a variety of institutions to deploy their services and applications on millions of mobile phones worldwide. Its patented CredenSE and In2Pay® microSD and iCaisse for iPhone solutions transform popular mobile phones into an interactive contactless transaction device. Committed to bringing contactless innovation to the mobile phone, the company launched moneto, the world's first multi-platform mobile wallet in the US. DeviceFidelity is a private corporation with headquarters in Richardson (Texas) and offices in San Mateo (California), and Aix-En-Provence (France). For more information visit devicefidelity.com, follow us on Twitter @devicefidelity and at facebook.com/DeviceFidelity.
About moneto:
moneto is a convenient and feature-rich prepaid MasterCard that is redefining the way we bank. With online management tools to help you stay on top of it all and a complete mobile app that gives you simple one touch access to your account and all its amazing features. Use moneto where debit MasterCard is accepted worldwide. moneto is based on In2Pay® technology developed by moneto parent, DeviceFidelity, Inc. and is available in the US and UK. For more information on moneto in the US visit moneto.com and for the UK visit moneto.co.uk, follow us on Twitter @moneto_me or at facebook.com/monetome
About Paybefore: Paybefore is the leading information provider to prepaid and emerging payments industry professionals, offering the latest news, commentary and analysis. Paybefore's family of industry publications includes: Paybefore.com; Paybefore News; Paybefore Mobile™; Paybefore News International™; Paybefore Update™; Paybefore Legal™; Paybefore Magazine™, a biannual print publication featuring in-depth articles on the opportunities, challenges and trends in the global prepaid and emerging payment industry; and the only industry directory, Paybefore Buyer's Guide Connections™, available online and in print. Visit us at http://www.paybefore.com.