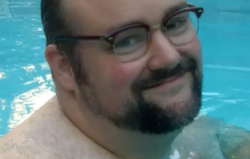 Today I'd like to complain about Sex Appeal
Los Angeles, CA (PRWEB) March 06, 2013
Daily Fiber Films is known for monthly comedy videos that border more along the lines of short comedy films than sketches. Accepting Adam Carolla's challenge was new territory for this group, who has over thirty short HD quality comedies on their impressive YouTube channel.
A member of the Fullscreen Network of channels on YouTube, Daily Fiber Films is expanding their programming to reach beyond their already twenty five thousand subscribers. Having their beloved original character, Morris "MoFo" Forewell, do the talking made their fans accept the new format with open arms. It does not hurt that the socially awkward, funny talking MoFo, played by actor Raymond McAnally, is complaining about his own personal issues with "Sex Appeal" from a swimming pool.
Adam Carolla responded March 4th by posting on his original video page, "Too sexy, mofo." Daily Fiber Films looks forward to more response when the episode airs, or even better, another challenge. "Adam Carolla, a professional at the top of his game, responded. That's a huge coup, to make another comedian laugh and answer back. I'll take that any day, but I'd love to hear MoFo rant with Carolla on his podcast", says McAnally.