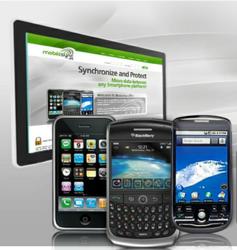 MobileSync Pro gives the user the ability to move all contacts, images and other data to a different smartphone platform automatically.
Jacksonville, Florida (PRWEB) March 08, 2013
Retina-X Studios, LLC, announced today the immediate availability of version 2.0 of its multi-device compatible cloud based syncing app, Mobile Sync Pro. The hybrid software/service let users having multiple devices of different platform share data between each other with ease and without wires.
Today's consumer have moved from having one telephone in house to having a smartphone with every member of the family, not to add even a single person is having multiple devices with him at one time. While it is easy to sync the devices together if they are from same vendor, say Apple, but the problem strikes when the consumer has devices from different platforms like iPhone, BlackBerry and Android. Many time user face same difficulty when switching their device to a new platform.
Mobile Sync Pro promises to solve this problem by keeping all the data of its user in a centralized cloud based platform and pushing the data to every connected device. That is, if the user add a Contact to his iPhone, the same is sent to his Android device as soon as a sync is performed. Mobile Sync Pro allows user to sync Photos, Music, Documents, Contacts, Calendar and Tasks between all popular mobile platforms.
"It's a pretty intriguing idea," said Charles King, principal analyst at Pund-IT Inc., a California-based IT industry analysis company. "Take the example of a mobile salesperson who could share his schedule remotely with people at the home office. They could upload sales documents for a particular client through the program and give him or her the tools they would need to do the job effectively just by checking in with a smartphone."
"MobileSync Pro gives the user the ability to move all contacts, images and other data to a different smartphone platform automatically," says James Johns, CEO of Retina-X Studios, "Our aim was to package a solution that does these different tasks efficiently, delivered as a cohesive single solution, made available for all major platforms, free of charge and no strings attached."
Mobile Sync Pro is available for free at this time for all popular platforms like Android, iPhone, BlackBerry and Windows Phone. For registration, download links and more information, visit http://www.mobilesyncpro.com.
About Retina-X Studios
Retina-X Studios is a trusted industry leader known for highly pragmatic yet innovative mobile software. Many of their software products are extensively used, with exceptional reviews and customer feedback from all over the world. Retina-X Studios products have been mentioned in popular media outlets such as Newsweek, The Wall Street Journal, The New York Times, Los Angeles Times, Reader's Digest, and PC World. The company's website is available at http://www.retinax.com.