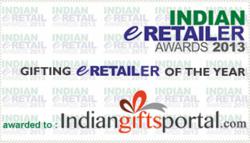 E-gifting retailer of the year award 2013
New Delhi (PRWEB) March 08, 2013
Leading e-retailer and online gifts giant, Indian Gifts Portal has taken a high-powered entry into 2013 by winning the prestigious and acclaimed title and award of "E-gifting retailer of the year award 2013" at the Franchise India Awards 2013. The award ceremony that felicitated innovators and thinkers of the Online Retail Industry in India. Franchise India was held at The Claridges, Surajkund on February 15, 2013.
Indian Gifts Portal has always been at the helm of growth and change in an industry that has seen such a surge in the past few years. With online retailing growing at a rate of over 300 percent during festivals, Indian Gifts Portal finds itself in the driver's seat where gifting ideas are concerned.
The eRetail Awards are considered to be one of the most prestigious awards that recognize excellence in performance in online retailing in the country and Manan Sharma, MD, founder and managing director Indian Gifts Portal says, "Gifting is a very big market and we still have to explore the hidden gems of India and showcase it for the world to see. Our company's focus is on the gifting that has its tenets embedded in the ethnicity and tradition of our country, which is why people choose it as an option for gifting. Our focus on ethnic Indian handicrafts and the fact that our team has scoured villages, cities and interiors of the country to bring to the eclectic gifter, options that speak inherently about the rich history and culture of India, is what has given us an edge over others. We also have the largest range of handicrafts in the country and are extremely proud and honoured to be able to bring India to the masses."
http://www.indiangiftsportal.com not only offers a splendid array of gifting ideas that are inherently indigenous in nature, the ease and comfort of just a click takes one on a shopping extravaganza that can leave one speechless.
This award only reiterates the portal's continuing efforts to bring the world closer in a global market where all castes, cultures, religions and customs can evolve and interact in a wholesome and satisfying manner.
About Indian Gifts Portal
The portal started by founder Manan Sharma thirteen years ago has seen the dynamics of the retail industry change and has now come full circle. Celebrating festivals and occasions has been a part of the portal's modus operandi and in the years that have followed, Indians and a global clientele has taken to the portal due to its pertinent advertising, choices and offers. Thirteen years into the business, Indian Gifts Portal is a leader in retailing and gifting.