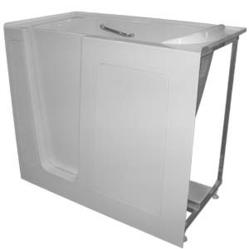 These unique heated back rests are a great feature not found on many walk in tubs.
Denver, CO (PRWEB) March 06, 2013
Aging Safely, a leading supplier of walk in bathtubs and ADA compliant handicap shower stalls announces they will now be offering senior bathtubs with heated internal seats. Unique aging in place technologies have now made it possible for bathers to be more comfortable when waiting for walk in tubs to fill or drain.
Hydrotherapy walk in bathtubs are an incredibly popular product for the elderly and bathers who have mobility challenges; as they can potentially provide bathroom safety and independence. However since bathers must sit in these specialty bathtubs undressed while they fill and drain; it can get cold and be uncomfortable for some.
The solution may be found in one of Aging Safely's walk in tubs that come with a built in back heater. This internal heater can assist in keeping bathers at a comfortable temperature before and after bathing. Internal heaters are only available on select models; customers are invited to contact an Aging Safely representative for a no cost consultation.
Aging Safely Walk In Bathtubs is a leader in bathroom safety technologies, and supplies senior bathtubs, handicap shower stalls, hydrotherapy tubs and safety grab bars to all 50 states and Canada. The company has added this unique walk in tub with a built in back heater in a continuing effort to provide the best possible aging in place products.
Retirees everywhere are looking for ways to make aging at home safer and more cost effective. Many are trying to prevent dangerous falls from occurring by making simple improvements to the home and bathroom area; in an effort to be better prepared for the unexpected. Senior bathtubs and handicap shower systems can make a major difference to someone who has a fear of falling in the bathtub or shower, however installing a grab bar in difficult to maneuver locations is essential in order to add that extra level of security and peace of mind.
The elderly can especially become prone to having a dangerous fall. The bathroom can be one of the more accident prone rooms in the home. For seniors looking at different ways to cost effectively age in the home, versus consider long term care options such as assisted living, senior housing or a nursing home. One of these specialty walk in tubs may be the right solution to aging in place safely and cost effectively. The costs of long term care can be crippling, whereas the money invested as a preventative measure in a step in tub product can be a great investment.
There is something to be said about being able to age in the comfort of home. It is common knowledge that the elderly can suffer from depression and anxiety due to entering certain institutional type facilities, not to mention lose the will to live. Walk in tubs may not be the right solution for everyone, however many customers are experiencing independence from the comfort of home, and thriving while aging in place.
Contact Information:
Zach Wennstedt
info(at)agingsafelybaths.com
1-888-779-BATH(2284