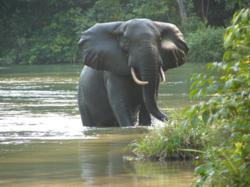 We must all continue to work together to halt this evil trade and save these magnificent animals.
(PRWEB UK) 6 March 2013
The Aspinall Foundation, a world leading conservation charity has today announced that their conservation work is helping to protect forest elephants in Gabon where it works in partnership with Gabon's National Park Authorities (ANPN).
The announcement is particularly timely in light of recent reports, issued yesterday to coincide with the 2013 CITES convention in Bangkok, which states that the population of African forest elephants is rapidly in decline.
Amos Courage, Overseas Project Director said: 'The forest elephant is being decimated throughout the Congo basin by ivory poaching. This illegal trade is being fuelled by an increased demand for ivory throughout Asia and hunting is increasing at such a rate that the very existence of the species is now threatened.'
The Aspinall Foundation also fund and coordinate an anti wildlife crime project called PALF.
Amos added: 'In Congo we fund and co ordinate PALF, which helps to put poachers and dealers of illegal wildlife products – including several ivory poaching and smuggling gangs in prison.'
In addition to the work with PALF, the conservation charity have also funded wildlife crime investigator, Esmond Bradley Martin, whose recent reports on the ivory sales in China highlighted the abuses of this supposedly legal trade.
Amos commented: 'The Aspinall Foundation have been involved with three different conservation projects aimed at halting the awful trade in Ivory, one of which has recently published their findings in the scientific journal PLoS One. We all must continue to work together to halt this evil trade and save these magnificent animals.'
The African forest elephant is a distinct species from the taller bush elephant, with straight narrow downward pointing tusks and rounded ears. Once widespread throughout Africa it is estimated that population numbers have dropped by over 67% in 10 years.
For further information about the conservation work of The Aspinall Foundation please visit http://www.aspinallfoundation.org
Editor's Notes
•The Aspinall Foundation manages conservation projects in Congo, Gabon, Indonesia and Madagascar, as well as providing financial support to various partner projects around the world. The conservation charity's important work helps prevent some of the most endangered species on the planet from becoming extinct.
•The Aspinall Foundation, working in conjunction with Howletts and Port Lympne Wild Animal Parks in Kent, is one of the most successful breeders of captive endangered animals in the world. With unrivalled achievements in husbandry the conservation charity boasts 135 gorilla births, 33 black rhino, 123 clouded leopards, 33 Javan gibbons, 104 Javan langur and 20 African elephants.
•The Batéké Plateau region that spans southeast Gabon and central Congo (Brazzaville) was probably the first large wilderness area to see the extirpation of gorillas in these countries. The primary aim of the reintroduction program is to re–establish viable gorilla populations within this area. From 1996 to 2006, a total of 51 gorillas were released; 25 in Congo and 26 in Gabon.