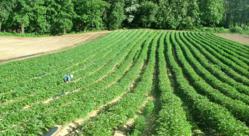 "We are thrilled to partner with Groundworks Farm to offer our customers the best in delicious, healthful, locally sourced and elegant food and events."

~ La Prima President Dave Evans
College Park, MD (PRWEB) March 06, 2013
La Prima Food Group is pleased to announce its new partnership with Groundworks Farm, and to congratulate Groundworks Farm on its recent acquisition of 55 acres of prime farmland in Pittsville, Maryland on the Eastern Shore.
Groundworks Farm grows a wide variety of vegetables using only sustainable, natural methods. In addition, the farm raises and sells pasture raised chickens and pigs, and eggs from its pasture raised hens.
Groundworks Farm operates under the popular Community Supported Agriculture (CSA) model, which provides a direct connection between the customer and farmer. Farmers get important cash flow at the beginning of each season, when paid in advance for a weekly, bi-weekly or monthly (in winter) share. In return, shareholders (customers) get the best produce, eggs, meat and cheese available and excellent value for their money.
With this new partnership, La Prima is excited to offer its customers sustainably grown local produce and to expand its signature "Seeds to Celebrations" program, which offers eco-elegant, sustainable catering for weddings and other special events.
In addition, La Prima's valued customers will have access to CSA memberships with distribution points in Annapolis, MD, Alexandria, VA and Arlington, VA. More information on this exciting opportunity will be available soon.
"We are thrilled to partner with Groundworks Farm to offer our customers the best in delicious, healthful, locally sourced and elegant food and events," said La Prima President Dave Evans. "This partnership is one more way La Prima is expanding its commitment to supporting ethical, responsible food practices."
La Prima Food Group recently earned the prestigious 3 Star Certification from the Green Restaurant Association, and is ranked by GRA as the greenest caterer in the DC metro region. The company's events division, Catering by Seasons, also holds the top spot on the Green Bride Guide.
##
La Prima Catering kitchens operate in five locations throughout the Washington, Baltimore and Philadelphia metro regions, providing unsurpassed service that is fast and flexible. The company's special events division, Catering by Seasons, offers a delicious, contemporary menu full of imagination and style for memorable special events such as weddings, corporate galas, religious celebrations and other important occasions. Its "Seeds to Celebration" program provides fresh-from-the-garden, elegant and sustainable events that support local farms and protect the environment. The company's "H Generation" division provides a nutritious school lunch program for area schools.