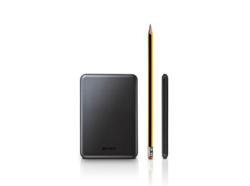 The MiniStation Slim is not only a stylish and sophisticated gadget, but also an innovative, highly powerful storage device. It is a fantastic accessory for anyone demanding on-the-go access to their music and movies
London, UK (PRWEB UK) 7 March 2013
Buffalo Technology, a global leader in the design, development and manufacturing of storage and wireless networking solutions, today announces the launch of the world's thinnest storage device, the MiniStation Slim. At just 8.8mm thick, 11.5cm long and 7.9cm wide, the MiniStation Slim is the perfect solution for on-the-go portable storage.
The portable device provides users with all the great features from Buffalo's popular MiniStation range. It offers 500GB worth of storage space and high-speed data transfers of up to 5Gbps via its USB 3.0 port. The device can also be used as a hard disk drive (HDD) recorder to record audio and video content.
The drive is also ultra-lightweight at just 140 grams, making it a great match for all current and future notebooks. It comes in a premium aluminium case and is available in red, black or silver.
Paul Hudson, Sales Director for Northern Europe at Buffalo Technology, said: "The MiniStation Slim is the latest addition to the Buffalo MiniStation family, and is a sleek, high performance, high capacity on-the-go storage gadget. It's not only a stylish and sophisticated gadget, but also an innovative, highly powerful storage device. It is a fantastic accessory for anyone demanding on-the-go access to their music and movies."
The MiniStation Slim is compatible with all popular operating systems, including Windows 8, as well as Windows 7, Vista and XP, and Mac OS X 10.5 or later.
Availability
The MiniStation Slim is available from Buffalo's stockists in the UK at an MSRP of £59.99, including VAT.
About Buffalo Technology
Buffalo Technology is a global manufacturer of innovative storage, multimedia, and wireless networking products for the home and small business. The company is recognised as the Number 1 total PC peripheral manufacturer in Japan, and was named the worldwide consumer NAS market leader 6 years in a row.
The company's storage products are addressing the needs of the individual and the business, providing cost-effective network attached storage (NAS), portable and desktop hard drives, multimedia players, and Wireless LAN routers, which together offer a complete and integrated solution for the small office and digital home environment.
Buffalo's strong international industry alliances with companies such as Intel, Broadcom™, Nintendo and Microsoft have allowed it to lead the industry in the development of the latest technologies into practical tools for the business and the home.
Headquartered in Japan, Buffalo Technology has offices in the UK, France, The Netherlands, USA and Taiwan. For more information please visit http://www.buffalo-technology.com.