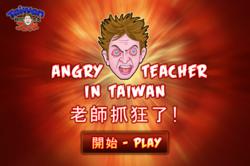 (PRWEB) March 06, 2013
Dev IT Solutions since its inception has been delivering high quality products and services for its clients throughout the globe. This educational mobile application for iPhone has been designed and developed by the team of expert and experienced developers. English has now become a global language and is being used throughout the world for communication purposes. We believe that English language is the key to globalization and it is very important to teach English to students preparing for language proficiency tests - TOEIC, TOEFL, IELTS, TESOL, TSE, CAEL, iTEP, TEPS, Cambridge and others.
This Educational Mobile App for iPhone was specially designed to make the learning process enjoyable for students. It is a well known fact that students learn better in creative and stress free environment and our educational mobile apps are doing exactly this. "Angry Teacher In Taiwan" is a fun filled app with multiple levels to make English learning a new and thrilling experience for students..
This amazing iPhone App has 20 levels and each level is harder than the previous one. All levels have multiple choice questions and each time a wrong answer is selected, the teacher in the app gets angrier. 4 mistakes are allowed in each level and on making the 5th mistake, the game ends. The audio and visual effects in the app are very attractive and engaging. Students of all ages will love this exciting app and be engaged in it for hours at a time along with gaining knowledge of English language. As of now this app is available for iPhone but the company will soon launch it for other platforms such as iPad, Android, Blackberry and Windows.
During a recent press conference, a senior spokesperson from the company said "We are pleased to introduce this educational mobile app for iPhone developed by our team of excellent designers and developers. So far we have launched various Educational Mobile Apps for kids and students on various platforms such as iPhone, iPad, Android, Blackberry & Windows and many more educational apps are already in the development stage to be launched soon.
For more details please visit http://www.devitsolutions.com/devitmobileapplication/
About Dev IT Solutions:
Dev IT Solutions is one of the leading companies providing cutting-edge solutions for Mobile Application Development on various platforms. It has a dedicated team for Development of Mobile Applications i.e. iPhone Application Development, Android Application Development, Blackberry Application Development and Window Mobile Application Development.
iPhone, iPad are trademarks of Apple Inc., Android is trademarks of Google Inc., Blackberry is trademarks of RIM Inc., Windows is trademarks of Microsoft Inc.