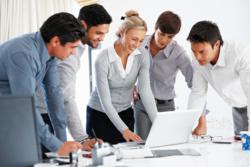 It's great to see such positive data for Northampton, especially in the face of the tough economic conditions the UK is currently facing
Northampton, Northamptonshire (PRWEB UK) 21 March 2013
A new report from company formation specialists Duport.co.uk reveals that the UK company share of Northampton rose to a record level last year, leaping from 0.4% in 2011 to 0.6% in 2012.
Not only did the town experience its highest ever UK company share, limited company registrations also climbed to a record level. There were 2720 new company formations over the course of the year - more than any other year in the history of the town and a 49% rise on the previous year.
Ongoing regeneration of the area could be behind the positive statistics seen in the Duport report. Several high profile projects have already been completed, including a revamped market square and the development of Beckets Park Marina. Current projects include the transformation of several brownfield sites into new office buildings and the redevelopment of the railway station.
Managing Director of Duport.co.uk, Peter Valaitis commented:
"It's great to see such positive data for Northampton, especially in the face of the tough economic conditions the UK is currently facing.
"The regeneration schemes that are completed and ongoing are clearly stimulating the local economy and encouraging new businesses to locate in the area."
The Duport Business Confidence Report for Northampton contains a wealth of data that provides a snapshot of the local economy. More information and statistics can be found at http://www.duport.co.uk/northampton.
Duport Business Confidence Reports are generated and released by Duport Associates Ltd. The data contained in these reports is assimilated and analysed by Duport using public record data from sources including Companies House, Office for National Statistics and Ordnance Survey. Duport Associates Ltd is a leading UK company formation agent, established in 1997 and registering around 10,000 new companies each year through its Companies House approved software.