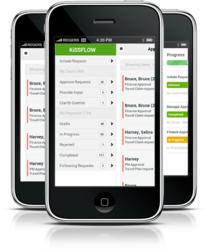 KISSFLOW mobile web app has just increased our productivity again! I can't wait to roll out all of the new workflow processes I have created already
Mountain View, CA (PRWEB) March 06, 2013
OrangeScape today announced the launch of the mobile web app for KiSSFLOW™, the top installed workflow app on Google Apps marketplace™. Users can now use the mobile web app for completing their tasks while on the go and even initiate their requests and track its progress.
"Getting all the tasks completed will get a whole lot easier for the mobile workforce with the launch of KiSSFLOW mobile web app. Imagine someone on a business trip scanning the bills, submitting the expense claim and getting it approved before they are back from the trip. This is just an example and opens up new possibilities with the mobile workforce." said Mani Doraisamy, Co-Founder and Chief Technology Officer of OrangeScape.
"Usually, mobile web apps are anything but user friendly. Yet, KISSFLOW is fool proof and extremely easy to use! It is so easy, that I am convinced anyone (even our not so computer savvy employees) will be able to use it." said Karen Vi'Nova, Operations Manager, Schweigen Home Appliances, Australia. "The beauty of this web app is, that my CEO currently resides and works between two States. Given that he is responsible for approving certain areas of our KISSFLOW processes, it is paramount that he can do this while he is on the go. KISSFLOW mobile web app has just increased our productivity again! I can't wait to roll out all of the new workflow processes I have created already."
Pricing
KiSSFLOW offers its customers three different plans to choose from: Free, Business and Enterprise. Integration capability is available in the Business edition and is offered for a trial period in the Free edition. The Free edition allows up to 10 users and 10 workflow processes. The Business edition allows up to 1,000 users and up to 100 processes. It is $3 per user monthly and $18 per workflow creator monthly.
The mobile web app is available in the business edition of KiSSFLOW. Full pricing and availability details can be found online. A free trial is available on the home page.
About OrangeScape
OrangeScape is a leading Platform as a Service (PaaS) company. Its PaaS solution enables the creation of cloud-based, SaaS or on-premise business applications. OrangeScape-based applications have been developed across nearly 100 application categories. OrangeScape also offers KiSSFLOW, the first workflow builder app specifically for Google Apps™. With KiSSFLOW, businesses can easily create HR and business approval workflow processes in a few simple steps. OrangeScape has secured $1M in an angel bridge round of venture funding. The lead investor is former CEO of Yahoo® India, Sharad Sharma. Other investors include Pramod Bhasin (former chairman, NASSCOM® and CEO of Genpact®); Linda Bernardi (CEO StraTerra Partners); Venkat Raju; and Raman Roy (CEO of Quattro Global Services). The company maintains offices in Mountain View, Calif. and Chennai, India. More information about OrangeScape and KiSSFLOW is available at http://www.orangescape.com and http://kissflow.com/.
Note: Whether noted or not, references to certain words may be trademarks or registered trademarks of their respective owners.