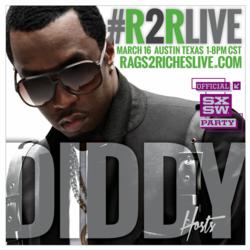 Cinsay and the Recording Artists Guild (RAG) have extended the online "Rags to Riches" music contest with GIGG.com to discover and promote more new musical artists
Austin, TX (PRWEB) March 06, 2013
Cinsay and the Recording Artists Guilds' big music event (R2RLIVE.com) hosted during the South By Southwest Music Festival has extended the "Rags to Riches" contest to Friday, March 8th. The competition has several categories for music artist's to compete including: most Cinsay On Demand merchandise sold, most Cinsay video shares on social media and the video competition on GIGG.com. The winners of each grouping will have a chance to showcase their talent and be heard during the March 16th event at Brush Square Park in Austin, Texas.
Scott Warner, CEO of Gigg.com said, "We are incredibly excited to team up with Cinsay and the Recording Artists Guild for the upcoming R2RLive Event. At Gigg we are focused on improving opportunities for artists and I know these two companies are definitely committed to doing the same. This event will be one to remember".
Besides discovering and promoting new music artists, some very big talent has been announced to perform and host at the event. Sean 'Diddy' Combs will be the event's master of ceremonies along with other hosts Bravo's, Madison Hildebrand, Rick Dees Productions', Cameron Penny and from this season's 'Celebrity Apprentice', Claudia Jordan. The musical line up includes Eminem produced singer, Skylar Grey, Neo Geo, jazz and blues hit, Larry Gee, and pop sensation, Forever The Sickest Kids (FTSK), and Warren G.
The event will be hosted live and online utilizing Cinsay's patented Smart Store™ technology enabling viewers the opportunity to shop for hundreds of unique and branded items while watching the live webcast and being able to share it all over the world.
The 'Rags 2 Riches' event is open to credentialed SXSW ticket holders and the press. Gates open at 1:00 PM CST at the Brush Square Park venue in downtown Austin. Performances also begin at 1:00 PM and end at around 8:00 PM. Over 12 musical artists will perform sets during the live video stream. The event will feature special guests, DJs, SXSW celebrity interviews from 2013 film and interactive sessions and the Cinsay RAGs 2 Riches music contest.
Registration to attend the event and watch online is open at R2RLive.com. Follow news and updates about the event by registering at the R2RLIVE page and via Twitter hashtag #R2RLIVE.
WHAT: Cinsay/RAG: Rags 2 Riches Live Music Event
WHERE: Brush Square Park, 409 E. 5th Street, Austin, Texas 78701
WHEN: March 16, 2013 @ SXSW – 1:00 PM – 8:00 PM CST.
COST: Free to credentialed SXSW badge holders, invited guests and music wristband holders.
ONLINE: http://www.R2RLive.com
About Cinsay, Inc.
Cinsay has created a next generation social eCommerce, viewer interactive, video-based platform for any individual or size businesses. Cinsay's SaaS based technology enables everyone to sell products, services, capture donations, and generate leads all inside the patented Smart Store™ technology. Additional services available to individuals, SOHO's, enterprises and nonprofits, are Cinsay's complete turnkey business solution via exclusive on demand, made to order merchandise featuring hundreds of personal, brandable products like t-shirts, caps, mugs and iPhone covers available at CinsayOnDemand.com. Now, anyone can be in business within minutes with no inventory whatsoever. Merchants benefit from Cinsay's in-depth reporting tools and real-time statistical data. Cinsay's embeddable platform is compatible with web and mobile devices and is highly scalable via its enterprise-level hosting and distribution networks. Full video production is available through CinsayProductions.com. Cinsay aggregates and promotes merchant stores via its searchable consumer portal, MyCinsay.com. Notable clients include: GameFly, Neiman Marcus, Wet Seal, decompras, and California Closets. Forbes has named Cinsay as one of "America's Most Promising Companies" and by eTail Conferences as a "Rising Star" in innovation for 2012.
About Recording Artists Guild (RAG)
The Recording Artists Guild (RAG) was established in 2009 to promote and protect the interests of all recording artists both professionally, and personally. RAG provides members with important benefits, special discounts, opportunities and access to exclusive networking events, music showcases and workshops. Specific benefits of RAG membership include: providing opportunities for digital distribution on iTunes, Spotify, Amazon and other popular sites along with opportunities for placement, important business, legal, and medical services that are often unavailable to artists, social video eCommerce technology via Cinsay, along with personalized merchandise from Cinsay On Demand. Executive Members have access to top-tier services at immense discounts. Our corporate headquarters is located in the heart of Hollywood at 5825 Sunset Blvd Hollywood, CA 90028.
About Gigg.com
Gigg is the best new source for music expression, discovery and connection. Gigg's "Opening Act" contests are uncovering amazing new talent by giving aspiring artists a chance to open for their favorite bands in front of massive audiences. Gigg is dedicated to finding the best musicians in the world. In addition to contests, the Gigg lyric-sharing app lets you express yourself to your social network through music, and discover what lyrics your friends are sharing as well. People have always shared their favorite lyrics, but have never had a fun, dedicated platform for doing so. GiGG, literally, puts this in the palm of your hand. Gigg's social app defined in one sentence: If Twitter married Instagram, GiGG would be their wedding song, their musical love-baby, and the soundtrack to their new life together.