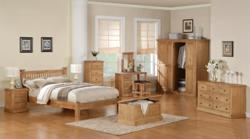 Consumers want furniture that lasts, they want solid wood and a durable finish - the pine has this, but it is also lightweight
Hereford, Herefordshire (PRWEB UK) 8 March 2013
Oak Furniture Retailer OAKEA today announced the relaunch of the Somerset Pine Bedroom Collection. This relaunch comes after the company saw an increase in the popularity of Pine Furniture over the last twelve months.
Pine is lightweight and has traditionally cost less to produce than oak furniture. For the consumer looking for good solid wood, Pine is an affordable alternative to oak. In recent years however, the narrowing price gap between the two has seen people moving away from the Pine.
Trends and fashions, however, are constantly changing. "Pine Furniture is growing in popularity, and not just because of the lower price." OAKEA's MD Henrik Pontoppidan commented, "Pine has a traditional and elegant look, which has become very fashionable. The quality is also a big factor. Consumers want furniture that lasts, they want solid wood and a durable finish - the pine has this, but it is also lightweight – which is a big advantage as it can be moved easily."
The Somerset Pine Bedroom Collection features thick, chunky tops, with rounded profiles, and solid plinths. All drawers are dovetail jointed, and doors are panelled to prevent splitting and warping. The wood is coated in a smooth lacquer, this seals the grain and protects the wood. The lacquer gives the wood a traditional matt look, but the wood is completely sealed, so there is no need to buy expensive oils or polishes to keep the Somerset looking good. "In fact" adds Henrik, "the Somerset Pine requires virtually no maintenance".
The Somerset Pine Furniture range includes flexible pine wardrobes. The wardrobes have a similar construction to OAKEA's Utah Oak Wardrobes, and are available in single, double, triple or quadruple configurations. Each section can be double or single hanging, and has optional single or double shelf packs to increase storage. The Pine Beds come in a double and a king size, each has a central support under the slats for extra strength.
The collection also boasts a range of Pine Chests of Drawers in many different sizes, including a Pine bedside table, and a low pine chest of drawers that is the perfect height to fit under a window, or double as a dressing table. The Pine Dressing Table can double as a lightweight desk, and the pine blanket box has a finger gap to prevent trapped hands.
The Somerset Pine Furniture Collection is available from the OAKEA website. The company also offers four ongoing ranges of Oak Furniture. These ranges cover the spectrum of popular designs. The modern/neutral Utah Oak Collection, for the bedroom, dining and lounge; the traditional French style Bretagne Oak Collection for the bedroom, dining and lounge; the traditional and Rustic style Malvern Oak Collection for the dining and lounge; and the super modern Ludlow Oak Collection for the dining and lounge.