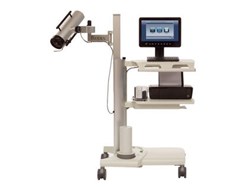 Shirley, NY (PRWEB) March 07, 2013
Biodex Medical Systems, Inc. is pleased to announce the availability of the Atomlab 960 Thyroid Uptake System.
This advanced spectrum analysis instrument boasts a count rate of 150,000 cps and is engineered for mobility, durability and operational efficiency. The combination of a new unique positioning LED and distance measurement rod allows for easy and reproducible patient positioning and uptake measurements.
Uptake studies, manual MCA program, wipe tests, and other user-defined tasks are accomplished with speed and precision using this fully integrated computer controlled instrument and its comprehensive selection of application software.
The system's multi-channel analyzer has 1024 channels, with individual MCA's for the probe and optional well counter. The Atomlab 960 handles clinical tests, safety compliance tasks, and system administration procedures quickly and accurately. The system automatically performs calculations, stores patient information and test results, and outputs clear, concise reports. User-defined uptake protocols can be initiated.
The self-contained Atomlab 960 system is configured on a compact mobile platform with locking casters and a base that measures only 26" w by 34" l (66 x 86.4 cm). An upper shelf supports the flat panel PC with touch-screen display and keyboard. The stand provides convenient storage positions for Neck Phantom, Calibration/Constancy Fixture, and optional well counter. A 2" x 2" NaI(Tl) detector with collimator shield articulates on a multi-axis and height adjustable counterbalanced arm. The 24.5" (62.2 cm) of vertical travel allows the probe to be positioned from 30.5 to 55" (77.5 to 139.7 cm) in the horizontal position from the floor to accommodate seated or supine patients. The probe swings more than 180° on the horizontal plane, and extends outward up to approximately 31" (78.7cm) horizontally from the support column. This design makes positioning for uptake studies simple and comfortable for both patient and technologist.
At Biodex, our commitment to quality is inherent in every product we produce. The Atomlab 960 is produced with the highest quality and precision. Automated programs and administrative functions are designed to streamline and simplify the QC process to allow for optimal efficiency. Intuitive programs and Quality Assurance applications follow conventionally established nuclear medicine procedures, yet can be customized to meet your specific requirements. Biodex offers a one-on-one applications training webinar at no charge.
To learn more about the Biodex Atomlab 960 Thyroid Uptake System or arrange for an online demonstration, contact Biodex directly at 1 800-224-6339 (Int'l 631-924-9000), visit our website, http://www.biodex.com/thyroiduptake, or email us at info(at)biodex(dot)com.
About Biodex Medical Systems
Biodex Medical Systems, Inc. manufactures and distributes medical devices and related replacement parts for physical and nuclear medicine, and medical imaging applications. It also provides concussion management as well as fall screening and conditioning programs. Biodex has been providing customers with innovative products and service excellence for over 60 years.
Contact:
Lila Corwin
Director, Marketing Communications
Biodex Medical Systems, Inc.
20 Ramsey Road
Shirley, NY 11967
631-924-9000 , ext. 2281
lcorwin(at)biodex(dot)com
http://www.biodex.com