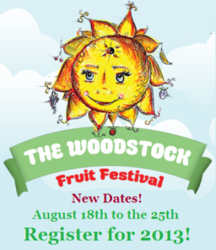 "Attending the Festival would be a dramatic event in her evolution towards peak health and wellness."
New York, NY (PRWEB) March 07, 2013
The Woodstock Fruit Festival is proud to extend an invitation to Anne Hathaway to attend the Festival this August. Michael Arnstein, founder of the event, shares 'Anne Hathaway is another wonderful example of beauty in the physical, emotional and spiritual. Her decision to go vegan for weight loss has opened her eyes to the wonderful world of plant-based foods. Yet I think she'd find an entirely new level of health if she gave a fruit-based diet a chance.' Hathaway followed a plant-based diet as a way to quickly lose weight for her role in the movie 'Les Miserables,' in which she won an Academy Award for best supporting actress.
One of The Woodstock Fruit Festival's goals is to help educate people on the benefits of eating a diet rich in fruits and vegetables in a healthy way. It promotes this message through multiple lectures, presentations and discussions held at its yearly event and welcomes Hathaway to join. Arnstein feels that participating in these informational sessions would help Hathaway increase her knowledge about a plant-based diet 'attending the Festival would be a dramatic event in her evolution towards peak health and wellness. We invite her to consider attending our world class event as one of our VIP's.'
The Woodstock Fruit Festival strives to address the many health advantages of eating fruit-based as well as environmental benefits. The Festival strongly believes that one of the best things you can do for your own health and the health of the planet is to eat more fruit! Some of the speakers for the 2013 Festival include well known raw vegan athletes and health pioneers: best-selling health author Dr. Douglas N. Graham, champion trail runner Tim Van Orden, founders of one of the popular raw food websites 30BananasADay.com, YouTube favorite Dan 'The Man' McDonald, Tony Wright (author in the evolutionary scientific community), internationally-published fruitarian author Anne Osborne, and expert on children's diet and nutrition Karen Ranzi. Festival speaker and 30+ year veteran fruitarian gymnast Robert Lockhart says "we live in a world where the human form is taking on ever-increasing dimensions; and obesity, heart disease and cancer rates are growing at alarming rates. The need for a healthy, ethical, and sustainable diet has never been higher. If you want to die young, but as late as possible, embrace the Fruitarian Lifestyle!"