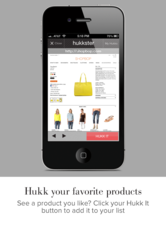 New York City, NY (PRWEB) March 06, 2013
Personal online shopping concierge, Hukkster (http://hukkster.com) has launched its mobile app for iPhone and iPad, giving users the ability to "hukk" specific products from across the web anytime, anywhere. Hukkster is a free online shopping tool that allows shoppers to track products on sites they love and get notified when those products go on sale. The service helps shoppers clear out retail email clutter, delivering sales notifications including site-wide promotions and coupon codes exclusively for the specific products they covet.
The Hukkster app is available for free download on iTunes.
"The expansion into mobile is a natural one for us," said Hukkster co-founder Katie Finnegan. "And we've listened to our customers. Being able to hukk from an iPad or an iPhone is something they've been calling for and that fits directly in line with the Hukkster company roadmap. We're excited to share this with the world."
Much like the in-browser experience, mobile Hukkster users browse their favorite retail sites within the app and identify the products they are interested in by clicking the hukk it button. The product is then added to the user's "My Hukks" list where they can track, organize and share the products they want. Users may set a price threshold and find out via push notification when the product either goes on sale, drops by 25 percent or drops by 50 percent, so they never miss a sale again.
"What's great about taking Hukkster mobile is the fact that everything stays in sync," said Hukkster co-founder Erica Bell. "If you 'hukk' a product through the web browser on your computer, you'll see it in the 'My Hukks' section on your mobile app too. We're excited to give our users the ability to purchase the styles they love, anytime, anywhere."
Launched less than 12 months ago, Hukkster works with thousands of retail sites including bloomingdales.com, gap.com, jcrew.com, macys.com and shopbop.com. It has helped users save, on average, 33 percent on products "hukk'd" across the web. The average hukk'd purchase price ranges between $150 and $250.
About Hukkster
Hukkster (http://hukkster.com), a free personal shopping concierge on the web, iPhone and iPad, helps shoppers track products on sites they love, get notified when those products go on sale and gives them the ability to buy so they never miss a sale again. Founded by former fashion merchandisers Katie Finnegan and Erica Bell, Hukkster is headquartered in New York City. To start hukking, visit http://hukkster.com or download the app on iTunes.