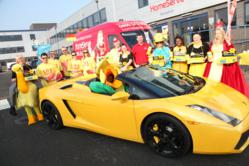 It's inspiring to see so many colleagues getting involved to support this flagship fundraising event. The charity has really resonated with colleagues and we're proud to help patients in their homes with our Patient Policy
Walsall, UK (PRWEB UK) 6 March 2013
Yesterday saw a rather striking newcomer among the iconic red vans at HomeServe's Walsall headquarters as the company's annual Wear Yellow to Work Day for Marie Curie Cancer Care got off to a roaring start.
The sight of the bright-yellow Lamborghini rubbing shoulders between the schools of red HomeServe vans helped lift staff into a fundraising frenzy, which saw them raise £1,500 TBC.
As well as paying £1 to wear yellow to work, hundreds of employees entered a charity draw to win a race day tearing up the track in the Marie-Curie-yellow Lamborghini.
This is in addition to the £1,175,000 that the company has already donated to Marie Curie, their national charity partner, in the past three years.
Wear Yellow to Work Day is part of Marie Curie Cancer Care's Great Daffodil Appeal, where the charity asks everyone to donate and wear a daffodil pin during March. All the funds raised from the Great Daffodil Appeal will allow Marie Curie Nurses to provide more free care to people with a terminal illness in their own homes and in the charity's hospices.
This Saturday and Sunday, employee volunteers will be giving up their weekends as they head to local supermarkets and town centres, armed with collecting tins and daffodil pins to raise even more. Last year, HomeServe's efforts to support the Great Daffodil Appeal raised more than £3,500 for the charity.
Wear Yellow to Work Day has become a popular tradition among staff at HomeServe. This year senior management, not to be outdone by enthusiastic employees, decided to go that one step further, setting an example by donning a variety of fancy dress outfits, including Tweetie Pie, Emu and a Marie Curie daffodil costume!
HomeServe CEO, Jonathan King has long been a passionate supporter of the charity partnership between HomeServe and Marie Curie Cancer Care. He said of the event that 'It's inspiring to see so many colleagues getting involved to support this flagship fundraising event. The charity has really resonated with colleagues and we're proud to help patients in their homes with our Patient Policy whilst raising funds and awareness for our National Charity Partner'.
Arun Sharma, Head of Corporate Fundraising at Marie Curie Cancer Care, said: "Staff at HomeServe put all their energies into their fundraising activities to support Marie Curie Cancer Care and this year's Wear Yellow to Work Day was certainly no exception. We're thrilled there's been such an enthusiastic response and the funds raised for our Great Daffodil Appeal will make a significant difference, enabling Marie Curie Nurses to provide many more hours of care to people with terminal illnesses at the time when they need it most."
Local racing driver Ryan Lindsay brought the Lamborghini Gallardo Spyder to the event to show his support for Marie Curie. In 2013 Ryan is aiming to compete in the Lamborghini European Super Trofeo and seeking additional sponsorship to make this possible.
HomeServe has donated £1,175,000 to Marie Curie since 2010, made up of cash raised through employee fundraising, business donations and sponsorship of Marie Curie's Walk Ten events, as well as gifts in kind through free services offered to Marie Curie patients.
This has funded the equivalent of 23 Marie Curie Nurses to care for people with terminal illnesses for a whole year, while the free home emergency cover through HomeServe's Patient Policy has given 1,087 patients and their families peace of mind during very difficult times.
As well as events like Wear Yellow to Work, employees have taken part in more ambitious fundraising campaigns, such as last May's HomeServe Cycle Challenge held in May when 50 employees cycled the 200km between HomeServe's Preston and Walsall sites in just two days.
Other innovative schemes the company has introduced include Pennies for Patients, which enables employees to donate spare change from their monthly salaries, or letting employees purchase a Charity Holiday Day – an extra day's leave, with their pay for that day being donated to Marie Curie.
HomeServe has also proudly sponsored Marie Curie's Walk Ten series of sponsored 10 kilometre walks for the past three years, which has seen large numbers of employees taking part in events all over the country.
In addition, HomeServe has committed to raising awareness of Marie Curie by embroidering the charity's logo onto its engineers' shirt sleeves, and carrying the Marie Curie daffodil on all 294 vans in its fleet.
To celebrate this achievement, and to show the continued commitment from the company and its employees, Friday 26 April sees teams from HomeServe's Walsall, Preston and Banbury sites trekking the 1,085m to the summit of Snowdon, with fundraisers being given a day's additional leave to take part.
The partnership between the company and the charity is the first of its kind for HomeServe. Marie Curie Cancer Care was chosen because HomeServe is in a special position to provide practical support to patients in their own homes through its network of engineers, as well as harness business donations and employee fundraising and volunteering.
Originally intended to raise £1 million by March this year, the company not only hit this target more than six months early but also confirmed it will continue the partnership for another year until March 2014.
-ends-
Notes to editors:
For more information, please contact:
Sarah Palmer on 01922 609 073 / 07872 411 215 sarah.palmer@homeserve.com
About HomeServe
With over 2,700 directly employed and sub-contracted engineers,Homeserve is a national emergency home repair service backed by a 24 hour claims handling and repair network
HomeServe's new tradesmen service provides households with access vetted tradesmen who are qualified to carry out various of different jobs around the home
Homeserve also offers insurance cover for plumbing, drains, electrical wiring and gas central heating.
About Marie Curie Cancer Care
Marie Curie Cancer Care is one of the UK's largest charities. Employing more than 2,700 nurses, doctors and other healthcare professionals, it provided care to more than 31,000 terminally ill patients in the community and in its nine hospices last year and is the largest provider of hospice beds outside the NHS.
Funding
Around 70 per cent of the charity's income comes from the generous support of thousands of individuals, membership organisations and businesses, with the balance of our funds coming from the NHS.
Marie Curie Nurses
The charity is best known for its network of Marie Curie Nurses working in the community to provide end of life care, totally free for patients in their own homes.
The right to die in place of choice
Research shows around 65 per cent of people would like to die at home if they had a terminal illness, with a sizeable minority opting for hospice care. However, more than 50 per cent of cancer deaths still occur in hospital, the place people say they would least like to be. Since 2004 Marie Curie Cancer Care has been campaigning for more patients to be able to make the choice to be cared for and die in their place of choice.