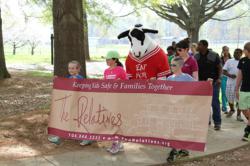 Charlotte, NC (PRWEB) March 07, 2013
The Relatives celebrates National Safe Place Week starting Sunday, March 17, and culminating in a special Celebration Stroll on Saturday, March 23, 2013, from Freedom Park to The Relatives Crisis Center on East Boulevard. The Relatives coordinates the National Safe Place program and is responsible for organizing all Safe Place partners in Mecklenburg County. Celebrated every year, National Safe Place week raises awareness about runaway and homeless youth, and educates the public about solutions and ways to prevent the growing problem. More information can be found at http://www.therelatives.org/relatives-new/safe-place-week.
The Relatives' Safe Place Week timeline is as follows:

Sunday, March 17: Duke Energy lights up The Relatives burgundy and Safe Place yellow
Monday, March 18: Safe Place Partner Reception, 2:00pm at the Crisis Center, 1100 East Blvd
Wednesday, March 20: Ruby Tuesday Give Back night; the restaurant will donate a portion of the day's proceeds to The Relatives
Thursday, March 21: Outreach and Media Day, CATS Transit Center, 3:00pm, where CATS will unveil the winner of the Art Partnership Contest
Friday, March 22: Safe Place Partners Day
Saturday, March 23: Celebration Stroll
All are invited to participate in the Celebration Stroll with The Relatives on Saturday, March 23, just over one mile from Freedom Park to The Relatives Crisis Center on East Boulevard, commemorating the journey of so many who have found hope at The Relatives. Stroll registration begins at 9:00 a.m. and the stroll begins at 10:00 a.m. The event will end with a family celebration at 11:00 a.m. with food, games and free giveaways from select Safe Place partners.
The Relatives began partnering with National Safe Place in 1988 to create a local network of businesses, public resources, churches, schools and transportation services, who were willing to post Safe Place signs throughout our community to identify themselves as a place for kids in crisis to get help. Any child or teen can ask for help at these locations and be connected to The Relatives Crisis Center free of charge. The Safe Place program allows The Relatives to expand its reach to more youth in the community and allow businesses to help this on-going effort.
About National Safe Place
National Safe Place, headquartered in Louisville, Ky., provides training and technical assistance for youth service agencies and businesses interested in developing a Safe Place program. Safe Place provides access to immediate help and safety for all young people in crisis. A public-private network of more than 18,000 sites across the country extends the doors of local youth shelters by displaying the Safe Place sign. Business partners and community locations that appeal to youth – such as fast food restaurants, convenience stores, fire stations, public buses and libraries – connect kids looking for help with the youth service agency. In 2009, National Safe Place introduced TXT 4 HELP, a 24-hour text-for-support service for youth in crisis. Teens can text the word "SAFE" and their current location to 69866 and receive a text message with the name and address of the closest designated Safe Place, as well as the number of the local youth service agency. The Safe Place program was created by the YMCA of Greater Louisville in 1983. For additional information, visit http://www.nationalsafeplace.org.
About The Relatives
The Relatives Crisis Center has been operating since 1974 providing a safe location for youth 7-17 who have run away from home, are homeless, or just going through a rough family situation with nowhere else to turn. The Relatives is the program administrator for National Safe Place in Mecklenburg County. The Relatives offers the On Ramp resource center that helps young adults 16-24 transition from circumstances like foster care, mental health programs, homelessness and unstable living situations, to successful adulthood. The Relatives also offers Journey Place, a transitional living community for young men aging out of foster care. Learn more online: http://www.therelatives.org.