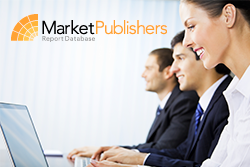 London, UK (PRWEB) March 06, 2013
In 2009-2012, the world production volume of ammonia grew by more than 10.5% and climbed to 170 million tonnes. Asia and Europe represent the largest regional markets for ammonia. In 2012, their common output climbed to over 125 million tonnes.
India and the USA are amid the top five country producers of ammonia. Together they account for nearly 13% of the overall output. India and the USA produce approximately 11 million tonnes each per year.
The global ammonia production is expected to be over 190 million tonnes by 2017, while the demand is forecast to be only several million tonnes lower by the same year.
New market research report "Ammonia: 2013 World Market Outlook and Forecast up to 2017" created by Merchant Research & Consulting, Ltd. has been recently published by Market Publishers Ltd.
Report Details:
Title: Ammonia: 2013 World Market Outlook and Forecast up to 2017
Published: February, 2013
Pages: 526
Price: US$ 4,500.00
http://marketpublishers.com/report/industry/chemicals_petrochemicals/ammonia_world_market_outlook_n_forecast.html
The report grants access to the detailed overview of the global ammonia market by describing the actual sate as well as historic background of the market and by providing extensive examination of the current and emerging market trends. The study also contains region- and country-wise analyses of the ammonia market. The research uncovers relevant data on ammonia capacities, production and consumption; discloses foreign trade statistics and price fluctuations. It thoroughly reviews external and internal factors having influence on the market shape; summarizes key events on the ammonia market; profiles leading market participants and analyzes their recent activities. In addition, the research study offers a forecast of future development of the ammonia market.
The report covers the following countries: Austria, Belgium, Bulgaria, Croatia, Czech Republic, France, Germany, Greece, Hungary, Italy, Lithuania, the Netherlands, Norway, Poland, Portugal, Romania, Russia, Serbia & Montenegro, Slovakia, Spain, Ukraine, the UK, Afghanistan, Armenia, Bangladesh, China, India, Indonesia, Japan, Malaysia, Myanmar, Pakistan, South Korea, Turkmenistan, Uzbekistan, Vietnam, Australia, New Zealand, Canada, the USA, Argentina, Brazil, Colombia, Mexico, Trinidad, Venezuela, Algeria, Bahrain, Egypt, Iran, Iraq, Kuwait, Libya, Nigeria, Oman, Qatar, Saudi Arabia, Turkey, UAE and Zambia.
Report Scope:

Detailed guide to the global ammonia market including historic background, overview of the current market situation and thorough description of the prevailing market trends.
Extensive market analyses in various geographical settings.
Unique data on the market dynamics, pricing issues, consumption/production volumes, export/import flows.
In-depth examination of forces influencing the market.
Review of the most prominent market players and their business activities.
Future market outlook.
More new research reports by the publisher can be found at Merchant Research & Consulting page.