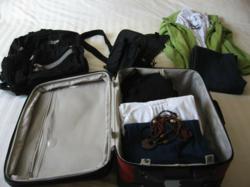 A good place to start packing is the travel documents
Kent (PRWEB UK) 7 March 2013
This is a two part article. For many people, packing a suitcase can be daunting, especially if it the first time doing it or it failed miserably the last time it was attempted. Prioritising items may sometimes be the biggest issue and so maybe the list below can be helpful.
A good place to start packing is the travel documents. Know where the travel documents will be stored, whether it is in a special shoulder bag etc.
Travel documents would be items such as: - Passports, plane tickets, train tickets, pre-printed boarding passes, cash money, credit cards, travel confirmation slips, driving license, insurance papers, EHIC – European health insurance card, spare passport photo, emergency contact numbers on both phone and hard copy, photo copy of passport and credit card contact information.
Toiletries are usually the next step to sort out for packing:- toothpaste, toothbrush, shampoo/conditioner, sun block lotion/after sun soothing lotion, body/hand creams, hair lotions or gels, travel electricals for hair and clothing like travel hairdryer, travel iron and adaptors, lip balm, deodorant, razors, towels, female hygiene, make up, face moisturiser, mirror, comb, brush and hair accessories.
First Aid necessities is next on the priority list:- do not ever assume first aid remedies are not needed. Pack plasters, medicines, insect repellents, antihistamines, ointments and alternative medication.
Look out for Part Two on tomorrow's article.
Luggagesuperstore established site is in West Kingsdown, Kent. Their aim is providing competitive prices of the highest quality luggage and top calibre Customer Service for online luggage shopping. Luggage Superstore recommends Carlton Luggage.
Trina Chee-a-kwai
Luggage Superstore
01474 854666
Email information