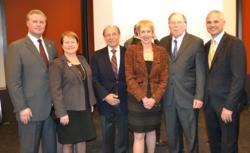 (PRWEB) March 06, 2013
Business Council of Westchester hosted a Reception on March 5th to introduce the Tappan Zee Constructors team. The event included a presentation of the new design and an opportunity for business members of Westchester County to meet the team responsible for this long anticipated project. Pictured (Left to Right): Thomas J. Madison Jr., Executive Director of New York State Thruway Authority; Joanne R. Deyo, Vice President of Facilities, Regeneron Pharmaceuticals; Ross Pepe, President of Construction Industry Council; Marsha Gordon, President of Business Council of Westchester; Walter Reichert, Tappan Zee Constructors Project Manager; and Brian Conybeare, Special Advisor to Governor Cuomo.
Ross Pepe, President of Construction Industry Council and Treasurer of BuildTheBridgeNowNY.org, commented "Our work on BuildTheBridgeNowNy.org has been an incredibly rewarding initiative. We look forward to working with Tappan Zee Constructors on this important project."
BuildTheBridgeNowNY.org is a broad statewide coalition of major employers, transportation professionals, civil engineers, and labor organizations representing more than 300,000 employees and more than 15,000 employers. Together, we support and applaud the broad efforts to replace the Tappan Zee Bridge with the New NY Bridge.
For more information, contact George Drapeau at the Building Contractors Association of Westchester & Mid-Hudson, Inc., Tarrytown, NY at (914) 631-6070 or by email at cicwhv(at)aol(dot)com.