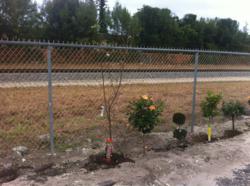 Boynton Beach, FL (PRWEB) March 06, 2013
Into Action Treatment is celebrating the successful completion of their program by one of their clients this week. This is always an exciting time for the small coed drug rehab center in South Florida, because watching their clients succeed and get on with their lives is what makes their work worthwhile. It has become a tradition every time that a client graduates from the 45 day program, that they get to plant a tree along the back of the property. So far there has been 39 trees planted, and this graduation marks the 40th tree at the center, which also means that the center has had 40 successful graduates of the program.
While the minimum stay is 45 days at the South Florida rehab center, the average stay is much higher. "We do not want our clients leaving the facility until they are full ready and prepared for the challenges that are in front of them in recovery. Even if our clients' insurance has stopped paying, we will allow them to stay if they are still working the treatment program," said Andrey Rossin, the founder and CEO of Into Action Treatment.
The treatment program at Into Action is a very unique approach, as it is the only Big Book Step Study Hyannis format rehab in the world. The treatment is very rigorous, as the clients have to complete a very intensive look at themselves and their past addiction. It is not the easiest treatment center in the world to go through, but it is one of the most effective boasting a success rate of over 30%, while the industry average is under 10%. "We are focused on long term success and do not want our clients coming back to rehab. The intensity of our program allows our clients to heal and recover from their addiction better than most centers out there," said Rossin.
While the program is intense, it is obviously working as the 40th tree was planted today. The 40th tree is a Florida peach tree, and will definitely inspire the clients and staff at Into Action Treatment Center to continue forward in their work.