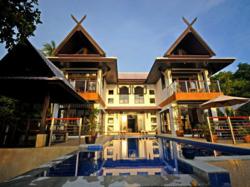 Thailand Retreats was founded with the aim of listing the best villas. This approach, along with customer service excellence has ensured 10 years of repeat business. We are so proud to be celebrating our birthday. Peter Saout, Customer Services Director
(PRWEB UK) 11 March 2013
Thailand Retreats, one of the first websites to offer luxury villa rentals on the island of Koh Samui, is celebrating its 10th anniversary. From its humble beginnings, offering just 8 Koh Samui Villas, it has now grown to feature over 250 luxury properties in the southern provinces in Thailand.
To celebrate its 10th birthday, Thailand Retreats has created 10 exclusive deals for stays in some of its most luxurious Koh Samui Villas. There is up to 30% discount from selected villas. The website has some of the best accommodation Thailand has to offer, from 2 bedroom apartments to 14 bedroom palatial mansions.
Many of the stylish properties are fully staffed and some come with the services of an on site Thai chef. Several come with highly individual design features. Thailand Retreats have recently listed a property with its own private cinema and another has the unusual feature of a slide beginning from a third floor bedroom balcony and ending in an infinity pool.
Thailand Retreats has also just recorded its most successful year of bookings. They have now assisted over 200,000 travellers to find luxury accommodation in Thailand.
The 10th birthday deals are available for all customers making a booking with Thailand Retreats between the 10th March '13 and 30th April '13. There is up to 30% discount from selected villas on selected dates. (See attached deals.)
Company Information:
Thailand Retreats was founded by Maggie Saout in 2003 and is now managed by family member Peter Saout. Thailand Retreats is a member of the Association of British Travel Agents. ABTA Y2460