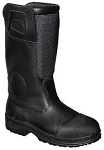 Carroll, Iowa (PRWEB) March 08, 2013
In its continuing effort to provide the most extensive selection of state-of-the-art firefighting equipment and supplies available today, Feld Fire has expanded its line of specialty boots to include the Cosmas brand. Cosmas is a recognized leader in protective footwear and bases each of its designs on the input and experience of real-life firefighting professionals.
As part of the Novation group of companies, Cosmas uses proprietary composite materials and technologies in all the boots the company creates, ensuring firefighters remain safe, comfortable and sure-footed. Each Cosmas boot style is specially designed to fit securely and move flexibly using materials specifically developed to withstand the extreme conditions encountered by firefighters during both structural and wildland firefighting.
Every Cosmas boot incorporates unique design and construction elements, including:

Flexible and protective leather uppers resistant to water, flames, chemicals and cuts
Accordion-style flex points that allow the foot to move naturally
Molded heel and anatomically-shaped steel safety toe for superior protection and support
Special lacing systems that allow the boot to remain secure while eliminating uncomfortable stress and pressure points
Removable antimicrobial footbed designed to conform to the foot's natural curves and contours
Open-cell padding for improved ventilation and comfort without reducing safety and protection
Ergonomic Heelroll™ and Toespring™ to enhance comfort and ease of movement
Cosmas boots rely on materials that have been developed to block moisture and contaminants like blood, body fluids and chemicals while still providing both thermal protection and ventilation. Boot designs are patented to guarantee that firefighters who use Cosmas boots can be assured of the quality they're receiving.
The addition of the Cosmas line of boots is just one more way Feld Fire ensures it provides its customers with the highest quality firefighting equipment available. In addition to its comprehensive line of firefighting and disaster management equipment, Feld also is dedicated to providing the best customer service in the industry, offering its customers support and guidance before the sale as well as continuous service after the sale is made.
About Feld Fire:
Founded almost 70 years ago by Ed M. Feld with the aim of providing firefighting equipment and supplies to western Iowa, Feld Fire has expanded to serve all of North America through its customer-friendly website, http://www.feldfire.com. In addition, Feld has locations in Carroll, Ia., and Grain valley, Mo., as well as experienced sales representatives covering Iowa, Nebraska, Minnesota, South Dakota, Illinois, Missouri and Kansas. FeldFire.com is a 3dcart ecommerce website.
Feld's mission is to continue to be the best single-source supplier of fire, rescue and safety needs in North America. To learn more about Feld and its newest line of Cosmas footwear, visit the Feld website at http://www.feldfire.com or call 800-568-2403 (U.S.) or 1-712-792-3143.