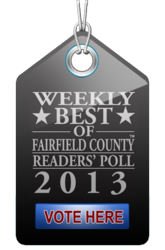 We're delighted that people love our food, and will continue to create food fueled by our passion for all things beautiful and delicious!
Norwalk, CT (PRWEB) March 08, 2013
For years people in the "know" have been sharing their voices to help decide the "Best of" everything in Fairfield County. From Best Place to Buy Shoes to Best Place for Take-Out, local Fairfield County residents have once again nominated Festivities in multiple categories including Best Chef, Best Caterer and Best Place to Buy Prepared Food. Voting takes place online, simply register here.
"We were thrilled that our Festivities Eatery was nominated this year for Best Place to Buy Prepared Meals To Go. We've worked very hard to create an ever changing menu based on the feedback from our clients."
The Eatery opened in late 2012 at the SoNo Marketplace with great response. "People love the idea of being able to visit over 50 local merchants under one roof." Says Executive Chef William Kaliff (who is also nominated for Best Chef) "We are looking forward to an active Farmer's Market this spring where visitors can enjoy a beautiful outdoor patio."
Voting is easy, simply click on the link, register and vote for Festivities under:
Restaurant- Caterer-Festivities
Restaurant- Chef- William Kaliff
Food- Place to Buy Prepared Meals To Go- Festivities Eatery
Voting ends March 24th, 2013.