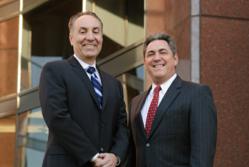 Weintraub & Selth receives industry recognition for their work as bankruptcy attorneys.
Los Angeles, CA (PRWEB) March 07, 2013
The partners of Los Angeles Law Firm of Weintraub & Selth have recently been identified as Super Lawyers by the highly-selective attorney rating organization Super Lawyers. For Daniel Weintraub, this is the fourth consecutive year he has garnered the award while for James Selth this honor is his first Super Lawyer rating. Another attorney at the firm, Elaine Nguyen, was named a Super Lawyer Rising Star.
In addition to this news, attorney Nancy Knupfer, also a Super Lawyer, recently joined the firm. Ms. Knupfer is an experienced bankruptcy attorney. She is a former bankruptcy trustee in the Central and Northern Districts of California and currently serves as a state court receiver. In addition, along with Mr. Weintraub, she is on the mediation panel for the District Court in the Central District of Mediators, was the President of the Beverly Hills Bar Association, a past Chair of its Bankruptcy Section and is a long time board and executive committee member. Ms. Knupfer is a Life Fellow of the American Bar Association and former Trustee of the LA County Bar Association. She has also served as a director of the LA Bankruptcy Forum, the Levitt and Quinn non-profit Law Center, and the Foundation of LA City College.
Ms. Knupfer's professional resume has made her a highly sought-after business bankruptcy attorney and legal consultant for both individuals and companies with both a national and international presence. With her experience in high finance, international law, and corporate consulting, Weintraub & Selth is more than proud to welcome her. Ms. Knupfer enriches the firm's ability to offer representation to both debtors and creditors in complex financial negotiations and litigation.
In some of the most complex areas of U. S. and international business law, Ms. Knupfer is extremely knowledgeable and experienced. She has worked in the Grand Duchy of Luxembourg where she headed the Syndicated Loan and Project Finance Department for Norddeutsche Landesbank International S.A. focusing on sovereign lending. She later became responsible for Eurocurrency loans and trade finance for Den norske Creditbank, Norway's largest commercial bank.
Additionally, Ms. Knupfer has co-chaired the Education Committee of the National Association of Bankruptcy Trustees, has chaired several annual seminars for Trustees of the Central District of California, and has chaired various panels and events for the annual California Bankruptcy Forum. She is a member of the Executive Committee of the LA County Bar Bankruptcy Committee and is also on the Legal Advisory Committee of the Anti-Defamation League.
Weintraub & Selth's Elaine Nguyen is fluent in Vietnamese, and Ms. Knupfer speaks German, Norwegian, French, Spanish and Luxembourgish. In addition to exceptional professional skill, these fluencies allow the firm to serve a vast array of clients throughout Los Angeles, California, the nation, and the world.
As the leader of a recent Beverly Hills Bar Association Delegation trip to Cuba, Ms. Knupfer had the opportunity to use her Spanish. The delegation met with a sitting Supreme Court Justice, leaders of the Attorneys' Union, the former Cuban Ambassador of the European Union, and the longest serving western journalist in Havana. By adding Nancy Knupfer to the team at Weintraub & Selth, the firm surely has a future filled with many more awards based upon exceptional service to clients.