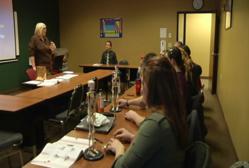 My students take much more away from this class by having a lot of time to work on projects and ask deeper questions of me.
Minneapolis, Minn. (PRWEB) March 07, 2013
Globe University, Minnesota School of Business (MSB) and Broadview University have been piloting flipped classroom style learning in a few of its campuses in four states. The flipped classroom reverses the lecture and homework elements of the class. Video lectures are viewed by students from home; class time is devoted to workshops and more helpful one-on-one time with instructors.
According to Educause, "The value of a flipped class is in the repurposing of class time into a workshop where students can inquire about lecture content, test their skills in applying knowledge and interact with one another in hands-on activities."
Instructor Joan Hamilton's Kinesiology class at Globe University's Eau Claire campus has embraced the flipped classroom. Hamilton noted in a class like kinesiology, which requires hands-on work, the in-class lecture cuts into valuable workshop time.
Hamilton said, "My students take much more away from this class by having a lot of time to work on projects and ask deeper questions of me."
The network of career colleges is also using flipped classrooms to teach surgery and anesthesia classes in Sioux Falls, S.D., massage in West Jordan, Utah and others in Madison, Wis. and Richfield, Minn.
CENTER FOR TEACHING AND LEARNING
Piloting flipped classrooms at campuses is part of the organization's wider ranging initiatives designed to advance student learning. Other initiatives include pre-start teacher training, a master teacher program and continued expansion of applied learning opportunities. These are all part of the schools' Center for Teaching and Learning.
ABOUT GLOBE UNIVERSITY, MINNESOTA SCHOOL OF BUSINESS AND BROADVIEW UNIVERSITY
Globe University, Minnesota School of Business and Broadview University are part of a premier, family-managed system of career colleges, universities and training centers based in Woodbury, Minn. These specialty skills colleges prepare work-ready professionals for successful careers in a wide range of high-demand fields. Through its mission, We Care, the organization integrates hands-on and career-focused education with service- and applied-learning experiences that expose students to their communities and real-world situations. Programs offer undergraduate, diploma and graduate degrees in a wide range of career fields, including business and accounting, health sciences, legal sciences, technology, creative media and applied arts. More than 30 programs are available online. All academic programs are accredited by the Accrediting Council for Independent Colleges and Schools (ACICS). For more information, visit http://www.globeuniversity.edu.
# # #