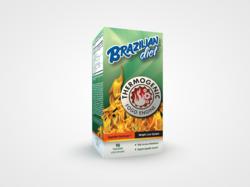 Miami, FL (PRWEB) March 07, 2013
Nutri-Force Nutrition, a recognized cGMP leader in the contract manufacturing, private labeling, and branding of nutraceuticals, vitamins, and nutritional supplements, has launched an innovative, new formula of the popular Brazilian Diet, a weight-loss system and appetite destroyer.
"Brazil is one of the most beautiful places in the world with a population of gorgeous people that are known for their flawless figures," said Dan Alhadeff, Chief Operating Officer of Nutri-Force Nutrition. "The new once-a-day Brazilian diet, now with natural ingredients and backed by supporting health studies, is designed to safely and effectively help people lose weight and reach their New Year's resolution health goals.†"
The reformulated Brazilian Diet is a high quality, potent, and dynamic product manufactured in Nutri-Force Nutrition's state-of-the-art cGMP manufacturing facility in Miami Lakes. With every single raw material included in the Brazilian diet undergoing strict and rigorous approval procedures, the Brazilian Diet ensures a quality product in each and every bottle. Available online at http://www.BrazilianDiet.com, the product can also be purchased at hundreds of GNC retail locations in Florida and thousands nationwide. Europa Sports is handling wholesale distribution.
Through its innovative and scientific formula, the Brazilian Diet targets the areas women and men struggle with - Metabolism, Appetite and Energy. Unlike the "fat burners" on the market today, the Brazilian Diet is a sustained diet created with natural ingredients such as Slendesta and Capsimax Plus. It does not artificially stimulate metabolism or cause jitters, bloating, or other side effects commonly associated with some other weight management ingredients. With its highly potent blend of Appetite Destroyer and Thermo genic FOGO Engine, three daily easy-to-swallow veggie capsules taken 30 minutes before lunch, is the easy and most convenient way to take the diet supplement.
The active ingredient in Slendesta is a natural protein called Proteinase Inhibitor II found under the skin of the potato that works by enhancing the body's release of cholecystokinin (CCK), a natural factor used by the body to signal the brain that food has been eaten which helps to create feelings of fullness and satisfaction.† Capsimax Plus is a blend of Capximax, or hot red pepper, and Capsimax Capsicum Fruit Extract, which has been clinically proven to increase the amount of calories burned before, during and after exercise by 12 times.† Other ingredients in Capsimax Plus Blend include the thermogenic and performance-boosting agents caffeine (in a small amount) and black pepper extract, as well as niacin (vitamin B3), necessary for converting food into energy.†
These key ingredients are backed by strong clinical evidence that support their effectiveness. Working in conjunction with each other, the ingredients in the Brazilian Diet increase metabolism, provide all-natural appetite suppression, amp-up energy levels and burn calories.†
Nutri-Force Nutrition was founded in 2001 with a mission of providing leading edge quality nutritional supplements, vitamins, and nutraceuticals with effective health benefits of the highest quality. A recognized cGMP leader in the contract manufacturing, private labeling, and branding of nutraceuticals, vitamins, and nutritional supplements, Nutri-Force Nutrition's relentless focus on quality, innovation, and unprecedented customer service has been at the core of its success. For additional information, visit http://www.nutriforce.com.
###
† These Statements have not been evaluated by the Food and Drug Administration. This product is not intended to diagnose, treat, prevent or cure any disease.