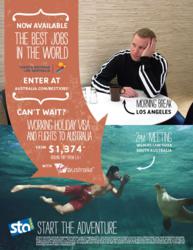 This is a wonderful chance to reinforce and amplify our message that Australia is a wonderful, world class destination full of unique experiences, adventure and great places to explore"
Dallas, Texas (PRWEB) March 06, 2013
STA Travel, the youth travel expert enabling students and young adults to explore the world and Tourism Australia are on the search for young travelers world wide who want to experience all the adventure and diversion Australia has to offer.
The partnership between Tourism Australia and STA Travel is part of Australia's "Best Jobs in the World" campaign that focuses on promoting tourism opportunities. STA Travel is one of the primary sponsors of this initiative and on offer will be six extraordinary jobs in six extraordinary areas, collectively showcasing the best of the country and the best that Australian tourism has to offer.
About The Contest
The grand prize is one job given away per state and territory of Australia, totaling six incredible opportunities. Each job will include an attractive six month package worth $100,000 including salary, accommodation costs and agreed living expenses.
The work to be carried out by the winners will be determined by each state or territory. Aside from carrying out the actual job itself, tasks could include hosting media films, working with local tourism operators, creating destination content about their region and sharing it through social media channels and blogs.
The jobs up for grabs are:

Chief Funster (New South Wales)
Outback Adventurer (Northern Territory)
Park Ranger (Queensland)
Wildlife Caretaker (South Australia)
Lifestyle Photographer (Melbourne)
Taste Master (Western Australia)
For further details click here
Quote from Andrew McAvoy, Managing Director for Tourism Australia
"The youth market contributes more than a quarter of all Australia's international arrivals. These are visitors who tend to stay longer, disperse widely and often come back again, with their families, later in their lives. This is a wonderful chance to reinforce and amplify our message that Australia is a wonderful, world class destination full of unique experiences, adventure and great places to explore"
About STA Travel
STA Travel is the youth travel expert enabling students and young adults to explore the world by creating experiences filled with adventure, discovery and personal growth. We offer a unique range of products with exclusive student discounts on airfare, accommodations, tours, rail passes and more. Globally we are present in over 60 countries through a combination of our 240 retail stores or our franchise partners, sending more than 2 million travelers away each year.