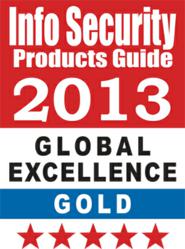 "Info Security Products Guide's recognition of 2FA ONE further validates our product as the industry leader in advanced authentication,"
San Francisco, California (PRWEB) March 07, 2013
2FA, Inc. announced today that Info Security Products Guide, the industry's leading information security research and advisory guide, has named 2FA ONE a Gold winner of the 2013 Global Excellence Awards. Not only was the product graced with the Gold award for "Best Security Products and Solutions for Government", but also took home Gold for "Best Authentication Product" overall. The security industry celebrated its 9th Annual 2013 Global Excellence Awards in San Francisco by honoring excellence in every facet of the industry including products, people behind the successes, and best companies.
More than 50 judges from a broad spectrum of industry voices from around the world participated and their average scores determined the 2013 Global Excellence Awards Finalists and Winners. Winners were announced during the awards dinner and presentation on February 27, 2013 in San Francisco attended by the finalists, judges and industry peers. Importantly, 2FA ONE was awarded Best Authentication Product and Best Security Products and Solutions for Governments. In doing so, it beat out other major solutions and industry stalwarts.
2FA ONE provides a comprehensive advanced authentication solution that secures digital access while simplifying life for the end user. Eliminating the need to remember, manage, and most importantly input complex passwords, 2FA ONE enables quick access to the desktop, through a variety of possible logon methods, and then smooth transition to programs through single sign-on.
"Info Security Products Guide's recognition of 2FA ONE further validates our product as the industry leader in advanced authentication," remarked Greg Salyards, President and CEO of 2FA. "This industry honor is the greatest endorsement to the fact that 2FA ONE provides the best-in-class security solution."
About Info Security Products Guide
Info Security Products Guide sponsors leading conferences and expos worldwide and plays a vital role in keeping end-users informed of the choices they can make when it comes to protecting their digital resources. It is written expressly for those who are adamant on staying informed of security threats and the preventive measure they can take. You will discover a wealth of information in this guide including tomorrow's technology today, best deployment scenarios, people and technologies shaping info security and market research that facilitate in making the most pertinent security decisions. The Info Security Products Guide Awards recognize and honor excellence in all areas of information security. To learn more, visit http://www.infosecurityproductsguide.com and stay secured.
About 2FA, Inc.
2FA Inc. is an Austin, Texas based, veteran-owned, software company created on the single vision of simplifying strong authentication. Consistent with that vision, their product, 2FA ONE, integrates credential management, single sign-on, and other advanced authentication workflows. Since 2006, 2FA has been at the forefront of technological advances in security and authentication.