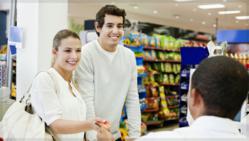 No one wants to lose business because of a power outage.
Towson, Maryland (PRWEB) March 06, 2013
With the some parts of the state expecting nearly a foot of snow today, USB Payment Processing, a leading credit card processing company in Towson, Maryland, gives tips on how businesses can take steps to protect themselves, their property and equipment from possible storm damage.
"Although snow storms are not new for Marylanders, we haven't had a big snow this year. And, it is always better to be over prepared for weather events to ensure you keep your business running and customers happy," said President of USB Payment Processing Marc Reibman. "We encourage customers to take our tips to heart in order to be safe, and to save time and money down the road."
MORE UPS – LESS DOWNS
Mr. Reibman says there is a simple way to protect your electronic equipment from the damage—and downtime—that can result from power outages. It's called an uninterruptible power supply, or UPS. Mr. Reibman explains that a small investment in a UPS can give you better protection and peace of mind.
What is a UPS?
A UPS is placed between the electrical receptacle and the computer. It isolates the computer from an outage. When the UPS senses a change in voltage or a power outage, it switches to battery backup. The batteries provide time to save information and shut down.
Mr. Reibman says some models use software that can close and save files before safely shutting off the computer. He says this is typically referred to as an unattended shutdown.
Where should a UPS be used?
Electronic equipment that is critical to a business should be protected, Mr. Reibman explained. This includes personal computers, cash registers, phone equipment and programmable logic controllers.
Can a UPS handle other power problems?
Depending on the type of UPS selected, it can provide protection against many common power problems, Mr. Reibman said. The chart provides more information about the types of problems that the UPS can correct.
What types of UPS are available?
The three types of UPS are listed in order of the protection they provide and their price:
Off-line UPS allows house power to flow until it detects a change in voltage or a power outage. Then it switches the computer from the incoming line to internal batteries. An off-line UPS may or may not provide transient protection. Check to ensure the computer can tolerate the switching time needed to transfer from the incoming line to the internal batteries.
Pros: Lowest cost. Most efficient. Quiet.
Cons: Direct connection from house power to the computer or other equipment. During the time it takes to switch to battery, the equipment is without power. Since the inverter (converts DC power from battery to AC) only runs during a power outage, it is most likely to fail when needed most.
Line-interactive UPS features an internal circuit that interacts with the incoming voltage to increase or decrease the incoming voltage. It does this without resorting to battery power. Regulating the voltage without resorting to battery power helps the batteries last longer and assures they are only used during a power outage. This type of UPS provides some protection against transients.
Pros: More line-conditioning than standby type of UPS. Quiet. Efficient.
Cons: Complete isolation from house power occurs only during a power outage.
Computer is without power during the time it takes to switch to battery power. Since inverter (converts DC power from battery to AC) only runs during power outage, it is most likely to fail when needed most.
3On-line UPS powers the computer or other equipment from an internal power supply 100% of the time. AC power from the incoming line is converted to DC, converted back to AC and then fed to the computer. This provides the highest level of protection. The incoming power is continually filtered and recreated.
Pros: Is the most compatible with emergency generators. Heavy-duty inverter sized to always operate the load. Less likely to fail during a power outage.
Cons: Highest cost. Least efficient. Noisiest due to cooling fan.
What does USB recommend?
USB recommends that a UPS be applied to electronic equipment that could be adversely affected by power problems. These include PCs, PLCs, phone systems, etc. If you can't get a PCS - all cords should be unplugged during the storm.
"Choose the type of UPS by how critical the equipment is that needs to be protected," Mr. Reibman said. "At the very least, unplug equipment from the power source during a storm."
About UBS
USB Payment Processing in Towson gives vital tips to businesses and consumers on which card to use when. USB has helped over businesses large and small process credit cards. Their clients range from established companies to start ups on their way to success. Regardless of the size and scope of their operation, each of USB's clients receives the same high-end customer service from one of our highly trained, personalized account representatives. For more information, visit them on the web at http://www.usbne.com.