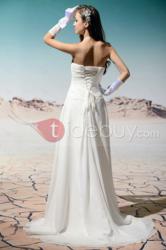 (PRWEB) March 07, 2013
The Women's Day (March 8th) celebration has recently become much more popular all over the world. Now, TideBuy is proud to announce its site-wide women's dresses are available at new low prices. All customers can benefit from a discount, up to 80% off, for ordering before Mar. 12, 2013.
Women's Day is not limited to love relationships or mothers. Gifts of women's dresses also include offerings to daughters, grandmothers, aunts, cousins, friends and even female work colleagues.
"We are really happy to launch this great promotion for our clients, because Women's Day has been an important chance to show your love or appreciation to a female. With a great selection of women's dresses, including cheap prom dresses, casual wedding dresses, formal dresses, evening dresses, celebrity dresses, and etc., We are ready to make our women's dresses available to more ladies," said, Edmond Liu, CEO of the company.
A unique and high-end Valentine's Day gift shows a true expression of love, and a women's dress may be a creative gift for a female. With its new dresses arriving weekly, it is easier than ever to shop at TideBuy.com for the special day.
About TideBuy.com
TideBuy.com offers one of the most extensive and stylish collections of wedding dresses and other special-occasion dresses at acceptable low prices, and its products include wedding dresses, prom dresses, cocktail dresses, and, etc. They are devoted to helping couples design their own wedding dresses without sacrificing the top-quality materials and fast delivery.
More information can be found at:
http://www.tidebuy.com/?utm_source=content&utm_medium=news&utm_campaign=index